I'm not much of a highpointer, and a begrudging one at best, although I maintain a kinship with those who follow this pursuit. I like the concept of highpointing more than the actual climbing of summits. That's why I find myself occasionally visiting sites like peakbagger.com and examining things like its Peak Lists. I admit, I lifted many of the ideas for today's article from its Selected World City High Points, and I'd do it again. City highpoints never got much attention. They fell way down on the pecking order behind national, state and county highpoints. I decided to give a few city highpoints the attention they deserved. I ordered my list from lame to grand.
Unnamed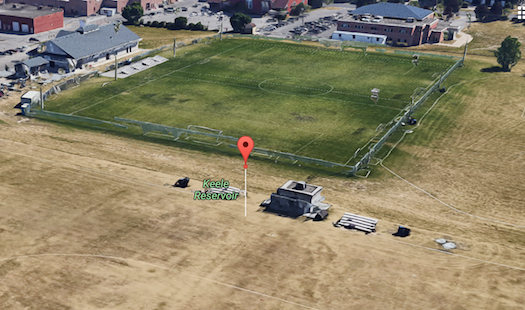 Toronto, Ontario Highpoint
via Google Maps 3D, 2017

Toronto didn't appear on that peakbagger list. Nonetheless I felt I should take a look anyway. The Canadian city with its largest population certainly deserved some attention. A great city in a great nation undoubtedly marked its highest elevation with a spectacular monument. Well, no, not really. Toronto's maximum elevation of 212 meters (696 feet) barely rose above the surrounding terrain. Trip reports described an underwhelming experience, essentially walking onto a field (map) directly across the road from York University. I did notice that a regular Twelve Mile Circle reader posted one of the trip reports so that was a nice bonus.
The generally flat field covered a large reservoir of underground oil tanks. It seemed odd, as I considered it, that sports fields would be built atop oil tanks, although I supposed it must have been safe or they wouldn't have done it. The fields served as home base for the Toronto Azzurri Soccer Club, with the specific highpoint found on what they called the West Fields. I can never remember where people call the sport Soccer and where they call it Football. Apparently Canada went with the soccer variation, or at least one club in Toronto did. I'm sure the Canadian 12MC audience will correct me if I'm wrong.
I doubted that any kids kicking soccer balls across a field atop oil tanks appreciated their exalted location upon Toronto's summit.
---
Chancery Lane at High Holborn

City (High Holborn, 22m) Junction with Chancery Lane. Photo by diamond geezer on Flickr (cc)


Peakbagger suggested a highpoint for London, England although I disagreed. It focused on Greater London and I'll get to that in a moment. I wanted the actual City of London, a very tiny area of barely more than a square mile. The possibility of an exciting highpoint within such a small urban footprint seemed remote. It met my paltry expectations and nothing more. The actual spot registered maybe a notch better than Toronto only because it fell within a fairly busy, seemingly dynamic area. The highpoint could be discerned on the eastern side of Chancery Lane near its junction with High Holborn (map). It registered a measly elevation of 22 m (72 ft).
People who "climbed" to the summit recorded some interesting trip reports. One person said, "I'd walked across this pavement summit several times whilst working in London, without realising it was a high point." Another offered a recommendation to future climbers, "Suggest you do this one from Chancery Lane tube station, then at least you walk slightly uphill to it." Everyone seemed rather unimpressed.
Westerham Heights appeared as the highpoint on the Peakbagger list (map), at 245 metres (804 ft). However, that applied to Greater London, comprised of all 32 London boroughs plus the City of London. It wasn't much more spectacular either, at 245 m (804 ft), "A rather unpleasant high point opposite Westerham Heights Farm; on a blind bend, the verge of a fast dangerous road, the A233."
---
Mount Lukens

Mount Lukens, view from Beaudry Loop. Photo by Vahe Martirosyan on Flickr (cc)

A similar situation appeared in Los Angeles, California although the highpoint was much more prominent. I didn't want the Los Angeles county highpoint, Mount San Antonio (aka Mount Baldy) at an impressive 3,068 m (10,064 ft). I wanted the city highpoint. The summit of Mount Lukens (map) reached 1,547 m (5,074 feet). While it didn't reach quite the same stature as Mount Baldy, it still hit a pretty good altitude. At least it was a real mountain, too. It sounded amazing.
Mount Lukens stands majestically above the Crescenta Valley as the western most peak of the San Gabriel Mountains front range… It's western flank drops over 3,000 feet affording terrific views of the San Fernando Valley to the southwest and the Verdugo Mountains and the Los Angeles Basin to the south. On exceptional days both the south and west facing beaches can be seen.
That made Los Angeles the city with the highest elevation of the 50 largest cities in the United States.
---
Montmartre

Montmartre. Photo by heroesbed on Flickr (cc)

However, Montmartre, the highest point of elevation in Paris, France, impressed me the most (map). A highpoint should look like this. It actually fell outside of the city limits until 1860 when it was annexed to become part of the 18th arrondissement. While the summit climbed only 130 m (430 ft), French authorities took full advantage of the situation. What does one do with such a prominent peak? Stick a basilica atop it and make it look even taller! The Basilica of Sacré-Cœur, dedicated to the sacred heart of Jesus, underwent construction on Montmartre between 1875 and 1914. What a lovely setting. No wonder artists such as Pablo Picasso, Vincent van Gogh and Claude Monet spent time on Montmartre.