We've established that a county in the United States can have zero borders if it is an island and one border if it is a peninsula, but that there are no fully landlocked counties with just a single border. But what about landlocked counties that have two borders? Surprisingly there seems to be but one lone example, Red Lake County, Minnesota. To the best that I can tell, every other landlocked county has three or more neighbors. If I am mistaken, please somebody let me know, because I've looked hard and I can only find this one.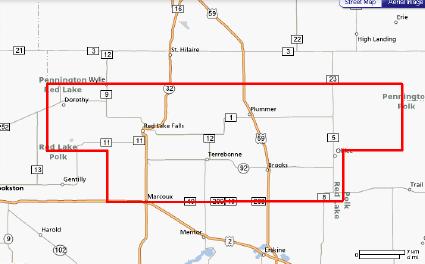 Map of Red Lake Falls, MN US
Pennington County forms Red Lake County's northern border. Polk County cradles Red Lake on the remaining three sides. Red Lake formed from Polk in 1896 after a series of backroom deals, shady elections, and wily maneuvering as described in the Red Lake County History. It's a quite fascinating story. To briefly summarize, many residents felt that their representatives in Polk County were quite willing to accept their taxes but provided few services in return, and as a result a new county formed. Today nearly 4,300 residents call Red Lake County home, with 1,600 of them in Red Lake Falls, the county seat. I was once within a few miles of this special location when I explored Lake Itasca, the source of the Mississippi River. However I failed to recognize the significance of this spot at the time and I've been kicking myself ever since.
---