The Intertubes wants to know and I'm happy to oblige. This is one of those occasional articles that regular 12MC readers may want to skip because it doesn't involve much from an intellectual standpoint. I keep receiving search engine queries about the 100th meridian west of Greenwich, specifically the list of United States counties that the line intersects as it splits the nation figuratively into eastern and western halves. I can't figure out why anyone would want or need to compile such a list, however, Google and the like believe that it exists and that I own it. I don't, or rather I didn't. Now I do. It's here at the bottom of this article.


View 100th Meridian West – twelvemilecircle.com in a larger map

The 100th meridian fascinates many people in a mystical Great Plains way. I've written about it previously, both from a Canadian perspective and a USA perspective. Not only does the meridian cleave nicely through the middle of the North American continent geographically, it creates a divide meteorologically. The landscape tends to be wetter on the east side and dryer on the west, resulting in differences in farming, settlement, ecosystem and ultimately culture. The 100th meridian is so much more than an arbitrary line, albeit that's exactly what it is from a technical perspective, it serves as a vague psychological transition.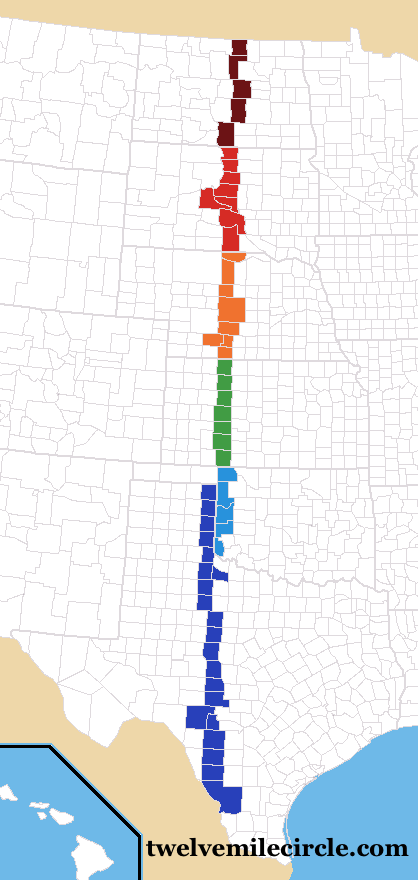 This is the result. Feel free to open the image in another tab and view it in full size. I've compressed it here for purposes of squishing it into a blog format. I've color-coded it by state to make it easier to follow.
I rather enjoyed drawing the map even if it was a bit tedious at times. Mapquest was actually more useful to this effort than Google Maps. Mapquest provides all county lines automatically. I had to check county-by-county to confirm that I was still straddling the 100th meridian. Borders don't always run straight and sometimes I had to check multiple county locations or even consult other sources. I'm pretty sure this is a definitive list although errors always seem to find a way to creep-in. I'll be glad to make corrections as necessary.
The meridian passes from north to south through North Dakota, South Dakota, Nebraska, Kansas, Oklahoma and Texas. I found some interesting peculiarities along the way. You'll notice a few clusters of side-by-side counties. Those are locations where a county may have only a tiny knob clipped by the line.
Gosper County, NE was a good example of that. It's roughly rectangular with a small square appended to its southwestern edge, almost as an afterthought (map)(1). The meridian passed through part of the square. Harper/Ellis and Beaver Counties in Oklahoma also raised an eyebrow. It appeared that the meridian ran right down the eastern edge of Beaver. However — and I checked this in a couple of different places — Beaver fell completely west of the line by a few hundred feet. Notice how Beaver Co. doesn't extend quite as far east as the Texas-Oklahoma border when it cuts south, which absolutely does follow the 100th meridian.
Speaking of that, does the meridian cut through those Texas-Oklahoma border counties or not? Some people may say that it does not because the theoretical width of the meridian is infinitesimally small approaching zero, and the two states and their respective border counties only "touch" not "cross" the meridian. I'm inclined to say that it does happen although for a more practical reason: I'm willing to bet that there are enough minor border oscillation due to tiny surveying errors that someone could find genuine instances of those counties actually crossing the meridian (maybe by only a few feet) if we looked hard enough. I'm too lazy to confirm that, though. Bear in mind that there is plenty of precedence in U.S. law to recognize these kinds of surveying errors as true boundaries if they've been observed as such historically.
Finally, there was also good reason for the Atchison, Topeka & Santa Fe Railroad to put the two sundials in their Dodge City, KS railroad station. The meridian fell only a mile away from the station (map) even though Central Time has crept slowly towards the western edge of Kansas over ensuing years.
Here is the list, from north to south.
North Dakota
Rolette
Pierce
Wells
Kidde
Emmons
South Dakota
Campbell
Walworth
Potter
Sully
Hughes
Stanley
Lyman
Tripp
Nebraska
Keya Paha
Brown
Blaine
Dawson
Frontier
Gosper
Furnas
Kansas
Norton
Graham
Trego
Ness
Hodgeman
Ford
Clark
Oklahoma
Texas/Oklahoma border
Ellis, OK
Lipscomb, TX
Hemphill, TX
Roger Mills, OK
Wheeler, TX
Beckham, OK
Collingsworth, TX
Harmon, OK
Childress, TX
Texas
Cottle
Foard
King
Stonewall
Jones
Taylor
Runnels
Concho
Menard
Kimble
Edwards
Real
Uvalde
Zavala
Dimmit
Webb
---
(1)I discovered a neat little trick I spotted on some random website while researching this article. Did you know that you can perform a Google Analytics review on any link created by the Google URL Shortener? Maybe I was the only one who didn't know that? Anyway, all you need to do is append either a "+" or a ".info" to the shortened URL. For example, here is a shortened URL I created for Kansas Mountain Time: For a map = http://goo.gl/maps/073xz; for Analytics = http://goo.gl/maps/073xz+ or http://goo.gl/maps/073xz.info. I'm not sure whether I'll ever have any practical purpose for this feature, however it's an interesting oddity to pack away in my toolbox. And who was the person from Argentina that clicked on the link, I wonder?
Under
Borders
,
Longitude
,
Tools
,
U.S. Counties
,
U.S. States
| Taged
100th Meridian
,
Great Plains
,
Kansas
,
Meridian
,
Nebraska
,
North Dakota
,
Oklahoma
,
South Dakota
,
Texas