Longtime readers know how much I enjoy a good portmanteau, a word created by mashing together two other words. I've featured geographical occurrences several times on Twelve Mile Circle, for example Dueling Portmanteau Placenames. I've also traveled intentionally to various portmanteau locations such as the towns of Mardela Springs and Delmar along the Maryland-Delaware border. Naturally I welcomed some recent email correspondence from "Dan," who shared a similar interest. He just recently stumbled upon 12MC so he missed a lot of the fun as it unfolded on these pages during the preceding decade. However, I don't mind delving back into the past so here I go…
Memory Lane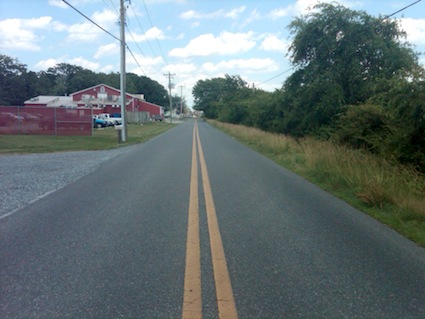 I recycled this old photo from that Maryland-Delaware article from 2012. The Transpeninsular Line cut straight between the yellow lane dividers with Delaware on the left and Maryland on the right in the unusually situated town of Delmar (map). That brought back some good memories. I need to get back out again and find some more of these.
---
Back to the Point
Anyway, I should probably get back to Dan and our email conversation. He discovered Wikipedia's page on portmanteaus about a year ago and found it entirely lacking. That prompted him to vastly improve, expand and reorganize the topic. Now readers have the option of referring to the List of geographic portmanteaus, the List of geographic acronyms and initialisms and the List of geographic anagrams and ananyms.
These pages presented variations on a theme. The first one featured true portmanteaus. The other two offered place names twisted in all sorts of wonderful ways, equally fascinating. I've enjoyed Dan's handiwork immensely.
Dan went to great lengths to take what had been a somewhat lackadaisical effort that he first encountered and converted it into the definitive source. He based some of his efforts on a publication he consulted called "Edge Effects: The Border-name Places," by Robert Temple. He then went well beyond that citation and managed to capture just about every example imaginable.
Go ahead and take a look. Be prepared to lose at least a couple of hours of your day.
Thank you Dan, for bringing me along on your your virtual journey.
---
Foreshadowing
I will be embarking on a bit of a road trip over the holidays. The destination(s) will remain a mystery for now. In fact, I don't even know the exact route yet. The weather will influence some of it. Feel free to follow along in semi-real time on the 12MC Twitter, or wait for the inevitable articles that will start to appear early in the new year.