<-- if you enjoyed this page, please consider clicking the +1 button. Thanks!
Washington Island
Door County, Wisconsin (September 2000)
| | |
| --- | --- |
| | |
| Washington Island Ferry | Ferry Route |
Washington Island sits within Lake Michigan off the northernmost point of the Door Peninsula. It is a continuation of the ridge that forms the peninsula except that a portion of it is submerged, so an island forms where the ridge returns to the surface. No bridge connects this island to the rest of Wisconsin. Instead a ferry service runs between the mainland's Northport Pier at Kenosha Park and Washington Island's Detroit Harbor.
We drove to the end of the peninsula on Rt. 42 until we arrived at the ferry landing. The boat had space for automobiles but we were only going for the day. We decided to leave our car in the parking lot by the dock. Washington Island is only about 22 square miles so its pretty compact. It has lots of well-maintained roads in a grid configuration with rolling hills and little traffic. It's perfect for bicycling. You can see someone in the photograph bringing a bicycle aboard the ferry. There are also a couple cars in this photo and several pedestrians. The interesting thing about the ship was that automobiles could park underneath the elevated structure that served as a passenger area and bridge.
---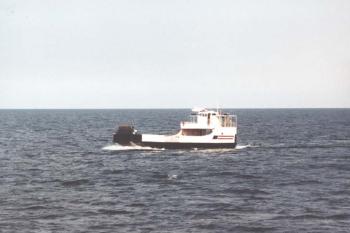 The Washington Island Ferry Underway
This is a Washington Island ferryboat underway. They're not large ships but they run frequently. For someone wanting to ride across as a pedestrian for a summer day-trip, it's a short wait, it's cheap, and it's quick. The ship cruised through the troublingly-named Porte des Morts Passage (literally "Death's Door"), skirted by scenic and historic Plum and Detroit Islands, and finally docked at the base of Detroit Harbor on Washington Island about a half hour later.
---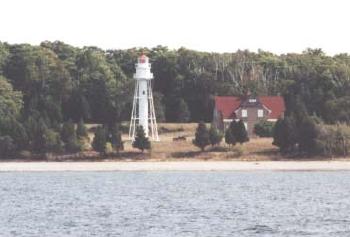 Plum Island Rear Range Lighthouse
We got a visual treat during our short sea voyage: a great view of the Plum Island Rear Range Lighthouse. This light sits atop a hollow cylindrical tube containing a spiral staircase once used by lightkeepers to tend the lantern and watch the lake for ships in distress. The lantern is a fourth order Fresnel lens on a sixty-five foot pole that can be seen for about thirteen miles. The two-story brick building to the right of the light conveniently housed the keeper. The government built the Rear Range Lighthouse in 1897 and added it to the National Register of Historic Places in 1984. Mariners still use this as a navigation aid but it's been automated and the house stands empty, slowly decaying. Notice that the windows are boarded up. The site is closed to the public so the Washington Island Ferry provides about the easiest close-up view.
Readers who have an interest in lighthouses might also want to check my Lighthouse Index.
---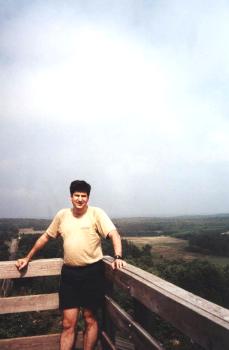 Washington Island's
Lookout Tower,
at Mountain Park
There are about 500 people living on Washington Island so it's rather sparsely settled with rolling farmland, vacation homes and a few small hotels. We bicycled up from the ferry dock at Detroit Harbor due north along Main Road and stopped for lunch at Nelsen's Hall. This place has an odd distinction for being the self-proclaimed headquarters of what they call the "Bitters Club." They claim that they serve more of the 90 proof Angostura Bitters than any other place on earth, in both quantity and per capita, not that anyone else may be trying to claim the title. Drinking a shot of bitters is apparently a tradition -- or so they tell unsuspecting tourists -- but this is one we chose to forgo this time around. Stomach tonic or not, it probably doesn't mix well with bicycling.
After lunch we continued briefly north and turned east along Town Line Road. Then shortly thereafter we turned north once again onto Mountain Road. Soon we arrived at Mountain Park, right about in the center of Washington Island. A large tower has been constructed on a hilltop, and 184 wooden steps later we reached its summit. From there we could see the entire island and even some of the other nearby islands. Later we pedaled back to Detroit Harbor, returned the bikes to the rental place, and caught the next ferry back to the Door Peninsula.
---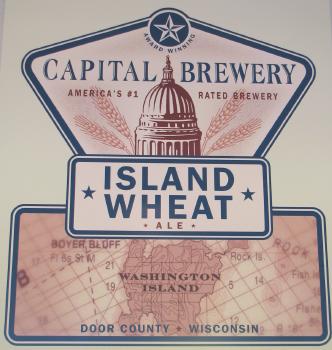 Island Wheat Ale
produced by the Capital Brewery
in Madison, Wisconsin
A number of years later I visited the Capital Brewery in Madison, Wisconsin, and a wave of recognition crossed my mind as I waited at their outdoor Bier Garten for the tour to begin. I spotted this sign among a row if product logos above the bar, and immediately recognized the reference to Washington Island. Hey, I've been there, I thought, but what does that have to do with beer? I'm familiar with beers named after local landmarks but Washington Island is clear across the state.
I learned on the tour that Capital Brewery purchases nearly the entire crop of Washington Island wheat each year. It lends a distinct flavor profile to their Island Ale since the main ingredient comes from such a small, isolated geographic microclimate. Nobody else can replicate it because no other source of supply exists. It became one of Capital Brewery's leading products almost overnight.
A harvest festival takes place each year in celebration of the new wheat crop, with a tractor-trailer rolling down to the Washington Island Ferry on its journey to Madison. Capital Brewery makes a pretty big deal out of it and has devoted an Island Wheat website to promoting the beverage as well as the event.