Sand Island and Eagle Island
Apostle Islands National Lakeshore, Bayfield County, Wisconsin (August 2007)
| | |
| --- | --- |
| | |
| A Lighthouse Appears | Sand Island and Eagle Island, Wisconsin |
We cruised past Sand Island and spied its famous lighthouse in the distance, a tan notch along a forested cliff. The Sand Island Lighthouse was erected in 1881 as a companion to the nearby Raspberry Island light. Ships heading east to Ashland couldn't see Raspberry Island until they first rounded Sand Island. This could be a problem due to dangerous shoals and shallow water lurking nearby. Sailors needed another light to help them swing around Sand Island and line-up properly with the Raspberry light. This would allow them to continue their journey safely along the West Channel between the inner Apostle Islands and the mainland.
The government commissioned a rustic Norman Gothic structure constructed from native brownstone quarried from the island. The tower rose 40 feet and contained a 4th Order Fresnel lens. It was the first of the Apostle Island lighthouses to be automated and it continues to guide mariners today.
Readers who have an interest in lighthouses might also want to check my Lighthouse Index page.
---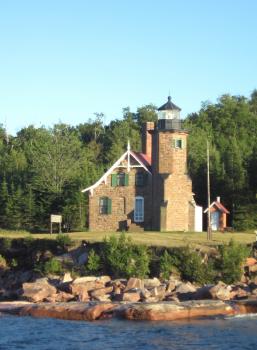 The Sand Island Lighthouse
The bulk carrier Sevona, one of the largest on the Great Lakes, ran aground northeast of Sand Island during a 1905 Lake Superior storm as the ship steamed between Superior, Wisconsin and Erie, Pennsylvania. The Sevona wrecked after attempting to seek shelter within the Apostle Islands as the storm intensified. It suffered a great gash when it hit the shoal, nearly breaking in half, and began to sink immediately. Seven men died in the howling storm on a makeshift raft fashioned from doors and hatch covers. The lighthouse keeper witnessed the accident but was powerless to help.
The lighthouse as well as the shipwreck site are listed on the National Register of Historic Places. The anchor is on public display at the National Park Service's Little Sand Bay Visitor Center nearby.
---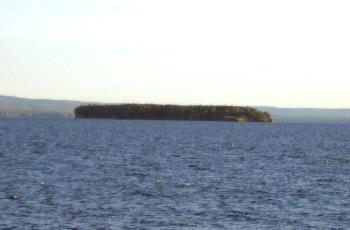 Eagle Island
Eagle Island, the westernmost point in the Apostle Archipelago, appeared as a green pancake on a floating griddle as we rounded Sand Island, and left the lighthouse behind us. It's one of the smallest islands in the chain with only tiny Gull Island forcing less stone above the waters. Modern visitors cannot come within 500 feet during the summer months for fear of disturbing bird colonies that converge here to raise their families in the safety of this remote speck. Had we been able to get a little closer we might have been able to spot many of the gulls, cormorants, herons, loons, and yes eagles, that flock each year to Eagle Island.