Mawikwe Sea Caves
Apostle Islands National Lakeshore, Bayfield County, Wisconsin (August 2007)
| | |
| --- | --- |
| | |
| Alongside the Sea Caves | on the Northern End of the Bayfield Peninsula |
Sea caves adorn several points along the Apostle Islands and the nearby mainland shore of Lake Superior. Sailors, sea kayakers and other adventurers flock to northern Devils Island, Swallow Point on Sand Island, and Mawikwe Bay along the Bayfield Peninsula, to explore these natural wonders.
An ancient braided river soaked through a basin about a billion years ago. It slowly filled the bowl with sandy sediment as braids overran their banks, changed course, and fanned out across the flat plain it traversed. Sediment gradually transformed into sandstone through millions of year of pressure, and became known in modern times as the Devils Island Formation. The basin became home to the Apostle Islands. Just as this formation grew from sand washed from afar, today waves, wind, and ice slowly gnaw through rocky surfaces grain by grain. None of this happens evenly. Waves move with the currents. Winds howl during storms. Crevices split when ice forms each winter. These unique patterns result in spectacular sea caves in a few fortunate areas along Lake Superior including the Apostle Islands National Lakeshore. Wave erosion in particular carves undercuts beneath the cliffs. Over time cuts can join with others to form pillars, arches, vaults, tunnels and chambers.
---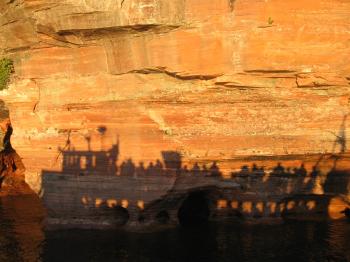 Excursion Ship Silhouette on Mawikwe Cliffs
Because caves face towards the lake, the best vantage is from the water. We took an evening lighthouse and sea caves tour offered by the Apostle Island Cruise Service. First, at a distance, we spied the Sand Island caves as we sailed in an arc past the island's northern and western flanks. We continued towards the Mawikwe Bay shoreline as the sun quickly dropped to the western horizon. The bright oranges, reds, blues and browns in these photographs are natural colors. If anything the camera didn't adequately capture dazzling reflected light bouncing from cliffs and sparkling swimming-pool calm waters. The image of our excursion boat appeared in silhouette on a stone curtain as shadow people peered through lower deck windows.
---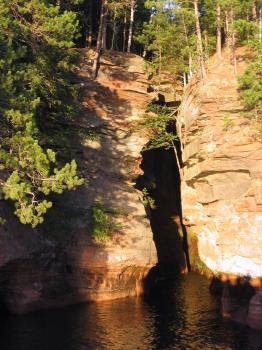 A Crevice for Kayak Adventurers
We lingered along the caves for an extended view. A lone kayaker paddled through tunnels and beneath arches. That is a typical way for people to see Mawikwe in the summertime. When water is calm, as it was on this day, kayakers flock to the caves to experience the serenity of darkened pockets, water gently sloshing, dripping and echoing along eroded surfaces.
Waterborne adventurers launch from the end of Meyers Road, off Highway 13 about eighteen miles around the peninsula from Bayfield. Meyers Road and its terminus parking lot have been paved, and provide great access to the sea caves either by paddle or by foot. From there the journey is about two miles. Sea kayaking is not without risks especially when inexperienced boaters combine with nasty weather. Lake Superior can be vicious and unforgiving. Sea caves become deadly in the peaks and troughs of rough waves, and fatalities at Mawikwe are not unknown.
---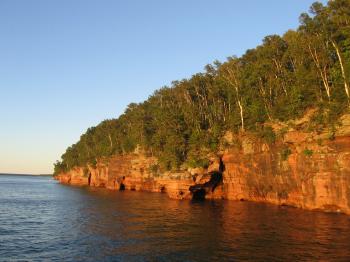 The Sun Sets on Mawikwe Bay
Some people choose to hike along the lakeshore trail to view the caves from above. The trailhead begins at the same Meyers Road parking lot. While the trail does indeed hug the lakeshore, thick woods make it difficult to see that a lake actually exists until the trail approaches the caves. However, the final reward is well worth a hike. It is always prudent to stand back and remember that caves have been formed by erosion and so have the cliffside edges where one may be tempted to move for a better view.
In the winter people can hike to the caves over the frozen surface of Lake Superior for an even more unusual perspective. The National Park Services monitors ice conditions and determines when it is safe to hike across.