<-- if you enjoyed this page, please consider clicking the +1 button. Thanks!
Madeline Island / Bayfield Ferry
Bayfield / Ashland Counties, Wisconsin (August 2007)
| | |
| --- | --- |
| | |
| Loading the Ferry at Bayfield | Madeline Island - Bayfield Ferry Route |
We drove north up the peninsula from Ashland but we still had to find a way across the Chequamegon Bay to Madeline Island. No road connected Bayfield to La Pointe. With only 200 year-round residents, it simply wasn't practical to build a towering suspension bridge across two miles of open water to connect it to the mainland. Fortunately we knew about an an easier solution. Ferryboats have crossed between these two locations for more than a century. Today that service is provided by the Madeline Island Ferry Line on a frequent, predictable schedule.
We dropped into Bayfield on Route 13, turning right onto Washington Avenue, and drove a block down towards the the ferry landing. With little delay we wheeled onto the ship and prepared for a scenic crossing of this small corner of Lake Superior. Twenty five minutes later we rolled off at La Pointe and began our journey on Madeline Island. It was really that simple.
---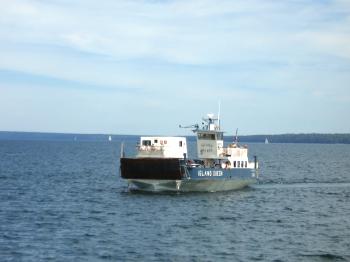 MV Island Queen
Ships slipped in and out of dueling cross-channel harbors, passing each other in opposite directions, loading and unloading vehicles with practiced precision on this sunny summer afternoon. Weekend vacationers left their cabins and bungalows on Madeline Island that Sunday, returning to their workaday lives in Duluth, Minneapolis, or Green Bay or wherever supported their lifestyles during the remainder of the week. Ferryboats plowed through calm waters one after another preventing the equivalent of a Madeline Island traffic jam, a line of returning voyagers at the loading dock.
The Madeline Island Ferry Line operated several boats that they rotated into service to meet weather conditions and customer demands. The stately MV Bayfield was their workhorse, carrying 25 cars at a time. I could also float much larger vehicles or cargo as necessary. The MV Madeline joined the channel crossings that busy summer afternoon. It held 18 cars and helped keep the lines short. The MV Island Queen, even smaller, can be seen pulling into port in the photograph above. It held up to 14 cars. One more ship rounded out the fleet, the diminutive MV Nichevo II that could transport only 9 cars. I didn't see it running that day but it's real usefulness comes along when the ice starts forming. That wasn't a problem in August.
---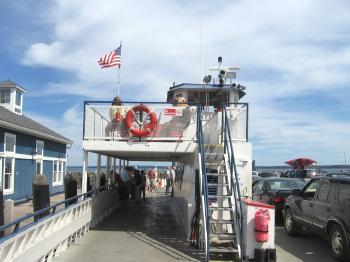 Every Space has a Purpose
The crew waved cars onto the ferry deck, packing them in tightly. Day-trippers walked aboard, many wheeling bicycles. On some crossings we spotted impossibly large vehicles loading onto the boats, including a gargantuan motor coach and even a full-sized gasoline tanker truck. All crossed the straights safely. The photograph above shows what it looked like after the first few cars drove onto the deck. Sometimes the crew stuffed cars under the upper passenger deck by the time they were done loading, trying to get everyone aboard. Those unfortunate drivers couldn't leave their cars without contortions and careful maneuvering. Many many people chose to remain in their vehicles regardless. Those were the most comfortable seats on the boat. And the ride was bearably short, cruising across the channel at 10 knots in less than half an hour.
There is something special about traveling by ferry. It may have something to do with ceding decisions to someone else for just a little while. Cars lose their identities when people leave them to mingle. Everyone travels the same way as equals. Nobody has to worry about passing or being passed, slowing down or speeding up . There are no speed traps, roadkill, bland stretches of generic roadway, or crazed 18-wheelers riding bumpers. Passengers have no choice but to relax, enjoy the endless waterfront scenery, and let the boat slowly point to its destination.
---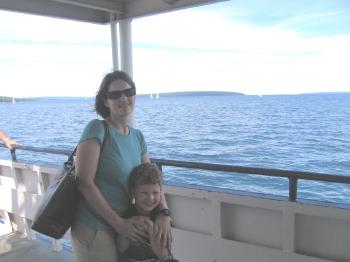 A Memorable Apostle Islands "Cruise"
This perfect summer day invited us to walk around the ship and enjoy the natural beauty of the Bayfield Peninsula and the Apostle Island from the railings. At times like this it's hard to imagine the arctic chill that grips this part of Lake Superior in solid ice for much of the winter. The ferry keeps pushing until it can no longer cut a channel through the thickening ice, sometime around mid-January. Then windsled season begins. These look somewhat like Florida Everglade airboats, except a little longer with an enclosed protective cabin. Windsleds also work in the same basic principle with propellers mounted on the back to push the windsled across the ice. Once the ice thickens to a suitable depth, islanders build a two mile ice road across the Chequamegon Bay to connect La Pointe to the mainland. Springtime eventually arrives and the ferries return for another season.
Readers who have an interest in ferries might also want to check my Ferry Index page.