<-- if you enjoyed this page, please consider clicking the +1 button. Thanks!
Miscellaneous Locations
Apostle Islands / Bayfield Peninsula
Ashland & Bayfield Counties, Wisconsin (August 2007)
This page holds photographs didn't seem to fit anywhere else on the site but are noteworthy nonetheless.
| | |
| --- | --- |
| | |
| Day's End Among the Apostle Islands | Miscellaneous Locations |
Stunningly clear views of the Apostle Islands and the mainland led the way to the Mawikwe Sea Caves. Now on our return trip, passengers jostled railings for viewing space as we sailed away from the northwestern tip of the peninsula towards the Bayfield marina. We completed our primary mission but now a perfect sunset seemed as certain as the bright cloudless day that proceeding it. The sun dipped below the western horizon while a lonely lighthouse announced a day's finale with its initial evening winks. Multicolored ribbons draped the western razor of Lake Superior and slowly faded into the depths, pushed aside by a crescent moon and constellations. The International Space Station -- with space shuttle attached -- arced across a sparkling dome.
---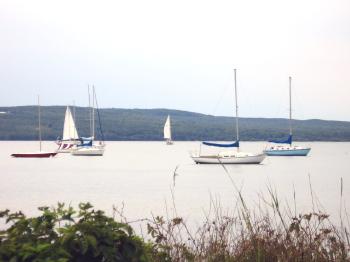 Sailboats Moored Off La Pointe
Amazing scenery exists everywhere among these islands until it seems normal. How else would the locals get anything accomplished around here? They can't spend all day looking out their windows. I experienced just such a moment while I played with the boys at a park in La Pointe, on Madeline Island. It was just another day in an otherwise ordinary situation. Then I looked up and noticed the world staring straight back at me.
The Apostle Islands are paradise for weekend sailors who wish to explore pristine channels, historic lighthouses, sandy beaches and rugged trails sprinkled over a compact archipelago. These particular ships anchored off of the town of La Pointe in waters sheltered by Madeline Island. Other sailboats complete the background, their sails unfurled as they harness the wind between the island and Bayfield.
---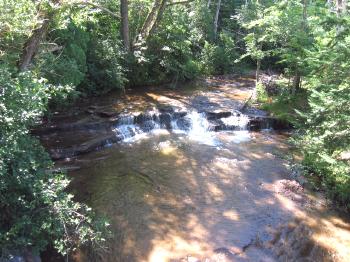 Siskiwit Falls
We navigated the Bayfield Peninsula using a detailed 1:150,000 topographic map that showed just about every road, path, forest, creek and bump. As we rounded Route 13 heading into the little town of Cornucopia, we noticed an odd marking on the map labeled Siskiwit Falls, where appropriately enough, the Siskiwit River prepared to dump into Lake Superior's Siskiwit Bay. I'm a sucker for waterfalls, and seeing how this was right around the corner, we decided to stop and explore. Siskiwit Falls were, to put it politely, very modest. They sat right behind Cornucopia flowing under a bridge along a quiet rural road named after the falls. It wasn't a single standalone drop but rather a series of terraced ledges both upstream and downstream from the bridge. I wouldn't necessarily recommend going out of your way to visit these falls, but if you're already near Cornucopia it's a pleasant enough place to stop for awhile.
Readers who have an interest in waterfalls might also want to check my Waterfall Index