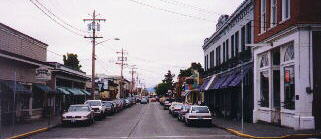 Want to borrow this image for your website or blog?
Please read Terms & Conditions
La Conner, WA
We stayed off I-5 to avoid spray coming off the trucks and followed a path through the town of Snoqualmie and its eponymous falls. A large inn sat aside wide cliffs of water. The cold, wind, and rain made us miss our car's heater and we didn't loiter long. As we headed north and eventually re-joined with I-5, the storm finally began to break. It rained intermittently awhile longer, but it never reached its previous strength and eventually stopped completely.
Earlier that morning someone suggested that since we were traveling north, we should go through the town of LaConner. This turned out to be an excellent idea. The charming little town offered several blocks that obviously catered to day travelers from Seattle, with numerous shops for antiques, crafts, curios, dining, etc. The town must be fairly well known in the area because street parking was tight even mid-week with questionable weather.
Later we took the scenic drive along the coast through Larrabee State Park to arrive in Bellingham. We toured the old Bellingham town hall, now a museum (during our trip it had an excellent exhibit on a series of early 20th Century races to Mt. Baker), found our inn and settled in for the evening.
Lunch: La Conner Brewing Company (La Conner, WA)
Dinner: Orchard Street Brewing Co. (Bellingham, WA).
---