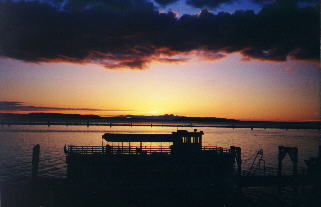 Sunset at Everett, WA
Want to borrow this image for your website or blog?
Please read Terms & Conditions.
Bellingham offered an easy shot into British Columbia, Canada. It also provided an opportunity to visit one of the strangest geographical anomalies in the United States -- Point Roberts! In this vicinity the two countries set their border along the 49th parallel to the sea, leaving a tiny chunk of the United States totally separated from the rest of the country. To visit, we left the United States at Blaine, WA, curved around Boundary Bay to Tsawwassen, BC Canada, and re-entered the United States at Pt. Roberts. Other than serving as a geographic oddity, Pt. Roberts really does not offer anything that cannot be found elsewhere but I still had to visit. It was a sleepy, almost desolate place that seemed almost a hybrid of the two countries. As an example, I noticed gasoline stations that listed their prices in liters. The border was even less of a formality than the many other crossings I've taken between the two countries.
You might also be interested in seeing my Pt. Roberts "Strange Geography" page.
We drove back into Canada and fought traffic into Vancouver. This didn't leave much time for touring so we headed towards Granville Island, the home of many artisan shops, and of course a brewery and a brewpub. We poked around the shops and marveled at the magnificent houseboats superimposed on the skyscrapers on the horizon.
We needed to return early in the afternoon to avoid the border traffic for Canada's three-day Victoria Day weekend. We agreed that half a day in Vancouver was way too short as we crossed into the United States and rolled along I-5 south. With the rains of the previous days far behind, we witnessed a joyous sunset in Everett, WA
Distances
Bellingham, WA to Vancouver, BC: 53 miles; 1 hour and 5 minutes.
Everett, WA to Vancouver, BC: 113 miles; 2 hours and 5 minutes.
---
---