<-- if you enjoyed this page, please consider clicking the +1 button. Thanks!
Tangier Island Ferry
Reedville, Northumberland County, Virginia to Tangier, Accomack County, Virginia (June 2000)
| | |
| --- | --- |
| | |
| Watercraft at Buzzard's Point, Near Reedville | Tangier Island Ferry Route |
We drove down the spine of Virginia's scenic Northern Neck, a broad appendage of land between the Potomac and Rappahannock Rivers that becomes increasingly isolated as easterly-flowing waters widen on their way to Chesapeake Bay. We traveled along Route 3, then onto Route 360 until we ran out of land near Reedville. The only option for traveling further east, assuming one wants to avoid a 100 mile detour down to Norfolk, is over open water by boat.
The Chesapeake Breeze passenger ferry leaves Reedville's Buzzard Point Marina for Tangier Island during the summer months. It is not an automobile ferry. Fortunately nobody really needs a car on Tangier. In fact a car would be a serious liability on any of the few narrow streets running over this compact island, and besides, there's not a whole lot of places you could go. People use their boats as cars there.
Reedville has lots of homes built right on the water, as befits a town on the Chesapeake Bay. We enjoyed a voyeuristic peek at stately properties with their private piers, brimming with weekend pleasure craft.
---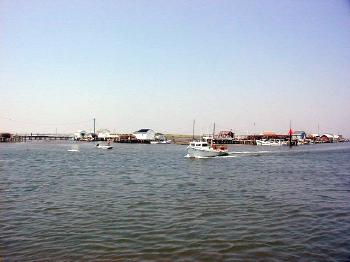 Fishermen Entering the Harbor
After angling through various inlets, the Chesapeake Breeze turned a corner around Fleeton Point and entered the open waters of the bay. Tangier Island's low-slung profile slowly came into view. In an hour and a half we finished our trip. Watermen cruised along on their way to or from their favorite hunting spots, to tend to traps harvesting that famous delicacy of the Chesapeake Bay, the blue crab. Making a living from the water is a tough, backbreaking job, but the people of Tangier have done this successfully for more than 300 years.
The decline of the crab population in recent years has hit them hard, as has the importation of inferior but cheaper crabmeat from Southeast Asia (don't be fooled: if it doesn't say it's genuine blue crab from the Chesapeake, it's more than likely fake and there is a taste difference). Residents have become increasingly dependent on tourism to underpin and diversify their island economy, but it's not overrun like Mackinac Island or Martha's Vineyard. Many of the men continue to work the water. Many of the women tend to a steady flow of tourists that day-trip from the eastern or western shores during the Summer, by providing guided tours by golf cart, running restaurants or gift shops, or creating handcrafted curios for sale.
---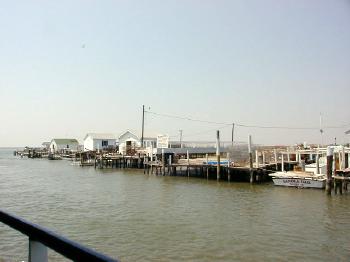 A Working Dock at Tangier Island
The docks on Tangier differed considerably from those observed as we left Buzzard's Point. These weren't tidy piers jutting from heavily-landscaped waterfronts adorned with gleaming powerboats, the toys of wealthy weekend sailors. Docks on Tangier were loaded with a tangle of ropes, cables, hoses and power lines, adorned with stacks and stacks of crab traps. Sheds offered storage space for gear and offered protective coverings over bins where crabs were watched around the clock until they molted and could be sold at a premium in their soft shells. Work happened here. This rustic ambiance was part of what attracted tourists to the island, but it wasn't there solely for their benefit.
---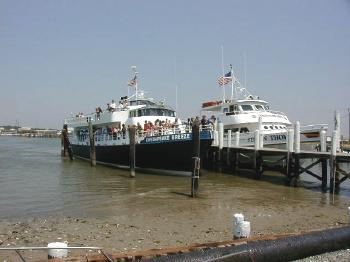 Two Ferryboats Dock at Tangier Island
Ferryboats deliver a steady stream of tourists during the Summer season. The Chesapeake Breeze is the only scheduled ship that leaves from the western shore. Two others serve the eastern shore: the Steven Thomas from Chrisfield, Maryland; and the Capt. Eulice from Onancock, Virginia. Two ships are docked at Tangier in the photograph above, the Chesapeake Breeze on the left and the Steven Thomas on the right. The Chesapeake Breeze had just pulled into port and was about to deliver another set of tourists ready to spread a few dollars through town.
Residents have other options during the winter months when passenger ferries halt for the season. There is a mail boat that comes directly from the eastern shore every day. Also, these are people who make their living from the sea so there's no shortage of boats that can make it across the bay as needed. And finally, there is a small airstrip on the island that can be used to evacuate someone if they require immediate medical attention. So even though this is an island in the middle of Chesapeake Bay that has the appearance of isolation, it's still pretty well connected to the outside world.
Readers who have an interest in ferries might also want to check my Ferry Index page.
You may also be interested in my Tangier Island page, which includes photographs taken on the island.