<-- if you enjoyed this page, please consider clicking the +1 button. Thanks!
Tangier Island in the Chesapeake Bay
Accomack County, Virginia (June 2000)
| | |
| --- | --- |
| | |
| Marshland on Tangier Island | Tangier Island, Virginia |
For many years I'd wanted to visit Tangier Island in the middle of Chesapeake Bay. People have inhabited Tangier for more than three hundred years, making a living from the bounty of the Bay, mostly isolated from their neighbors on the eastern and western shores. This has resulted in a culture that has developed in splendid isolation. Some say that one can still hear a hint of Elizabethan English in the speech of the inhabitants who have made their living from the Bay since Colonial times. Tangier Island is truly a national treasure.
There is a small airport on the island and there are ferries from Reedsville on the Virginia mainland, from Crisfield on Maryland's eastern shore, and from Onancock on Virginia's eastern shore.
The island is actually several islands separated by narrow canals. While the whole conglomerate is maybe three miles long by one mile wide, most of it is marshland similar to that shown above and doesn't look like it would support the weight of a house. However there are three narrow ridges running north to south that do contain land firm enough to hold residents' homes. One such ridge can be seen on the horizon. The island has a low profile with a high elevation of perhaps six feet and the town watertower dominated the horizon as we approached by ferryboat.
---
Main Street on Tangier Island
Here is Main Street near the southern end of the middle ridge, facing north. The road to the left crosses marshland and canals to connect with the western residential ridge. Notice the "Speed Limit 15" and ""Speed Checked by Radar" signs. There are only a handful of cars and trucks but many electric golf carts. A lot of the residents had little driveways with electrical hookups for their carts in front of their homes. This seemed an excellent way to get around town since there weren't many roads and all of them were narrow. The town had a couple of restaurants, convenience stores, curio shops, and golf cart / bicycle rental places. There were also two churches, each with a cemetery. Many residences also had small cemeteries in their front yards.
---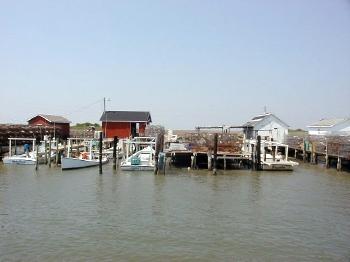 Watermen's Piers for Aquaculture
This is a culture built on the water so it should not be too surprising that just about everyone had a boat. Piers like the ones above could be found around the island and in various inlets. Here crab traps were being prepared for setting in the Bay. We also saw many aquatic "farms&quot for growing and harvesting soft-shelled crabs.
---
You may also be interested in my Tangier Island Ferry page, which talks about how to get to Tangier Island.