<-- if you enjoyed this page, please consider clicking the +1 button. Thanks!
Timpanogos Cave National Monument
Utah County, UT (July 2011)
| | |
| --- | --- |
| | |
| A Short Video I Took at the Cave | Timpanogos Cave National Monument |
We'd never heard of Timpanogos Cave National Monument prior to our trip to Utah. During our planning we'd asked people for suggestions for fun activities in or near the Salt Lake Vally. A family friend who lived in the area recommended Timpanogos. It sounded like something right down our alley: a chance to go hiking in the Wasatch Mountains followed by a spectacular cavern tour. We consulted National Park Service information, took note of their visitors tips, and headed towards the scenic canyon of the American Fork River about halfway between Salt Lake City and Provo.
Our point of access started from the west using Interstate 15. It's also possible to start from the east and use the Alpine Scenic Highway as it winds through the mountains, and we may have considered that possibility if we hadn't already been in Salt Lake City. It's much easier driving from I-15. Take exit 284, the Alpine-Highland exit, and head east for about ten miles. The first half of the journey travels through typical suburban sprawl with multiple stop lights, housing developments and strands of roadside shopping centers. That's the least pleasant part of the route and soon enough it gives way to the boundaries of the Wasatch National Forest. A roadway hugging the rugged American Fork River arrives at the Timpanogos Cave visitors center before long. It's impossible to miss; a large and well-signed parking area on the right side of the road.
The caves attract 70,000 visitors a year and it's only open during the warmer months when snow melts from the trail. That right there suggests it attracts sizable crowds during peak periods, and indeed that was the case during our middle-of-the-summer visit even though it was a weekday. Parking was tight and wait times for cave tours were extensive. Fortunately we paid attention to the NPS website and bought tickets in advance. Visitors can't simply walk into the cave on their own. Tours are ranger-led, begin at specific times and are limited to about 20 people per tour, which greatly restricts the number of visitors who can see the caverns each day. I can't recommend this strenuously enough: make reservations before you arrive if you intend to visit during a popular time. Bring a picnic lunch, arrive early enough to make sure you find parking and meet your tour time, then relax at the picnic grounds on the other side of the road along the banks of the rushing American Fork. This will start the visit on a stress-free track so you can reserve your energy for the invigorating hike to the cavern entrance.
---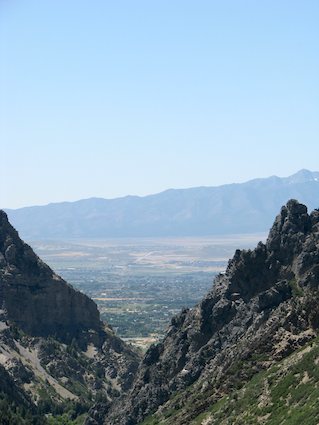 American Fork Canyon
Yes, Timpanogos Cave National Monument requires a hike, and a fairly strenuous although certainly doable one for those who are in even moderate shape. We completed the treck in less than an hour while shepherding two children under the age of ten along the path. The park rangers suggest about an hour and a half although they're accounting for differences in people's physical abilities and temperature variations. Rangers control when trekkers begin their hike from the Visitors Center but tourists are on their own until they arrive at the cave entrance a mile an a half away over numerous uphill switchbacks. While the trail is well-maintained paved asphalt, it delivers a quick 1,092 foot elevation jolt during the climb to an entrance at 6,730 feet above sea level. Throw in a hot summer day and very little relief from the sun on a mostly unshaded high-elevation pathway and one can begin to appreciate why it might take an hour and a half.
Again it's best to be prepared. We all carried light backpacks with plenty of water, sunscreen, flashlights and sweatshirts. We stopped regularly to rehydrate, conserve our strength, and appreciate the amazing views of the American Fork Canyon extending all the way to the Salt Lake Valley. We were lucky enough to have a relatively cool day considering it was the middle of summer. I can't imagine what it must be like when it hits 100 degrees. Flashlights and sweatshirts? Right. Those will come in handy once inside the cave where it's dark and a constantly chilly environment that feels like late autumn. It's a nice contrast for a moment after climbing uphill in the heat although that will quickly change as sweat-soaked shirts begin to chill.
Another thing to keep in mind is that no item you bring into the cave can ever have been within any other cave in the past, including articles of clothing, hiking boots and backpacks. Authorities are desperately trying to stop the spread of White Nose Syndrome, a fatal fungus that is killing bat colonies primarily in the eastern United States right now. You will be asked, and if you're in violation of the rule you will not be allowed into the cave. Let's assume you've done your homework though and you've successfully made it through the gauntlet of reservations, restrictions and climbing, and have finally arrived at the cavern entrance. It's definitely worth the trouble.
---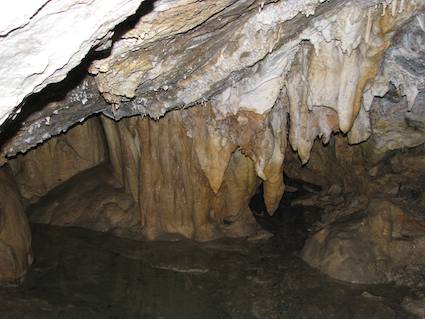 Stalactites Above a Pool of Water
Timpanogos encompasses three primary chambers following an ancient fault line through the mountain. Spelunkers speculate that there may be others yet undiscovered along the same fault. Water seeped through the crack, eroding hollow spaces and creating unusual formation within caverns slowly over time. It is a living cave system, meaning water continues to flow through small breaks in the rock, creating new formations and dripping into something like thirty small pools.
Martin Hansen discovered the first chamber in 1887 and unsurprisingly it's called Hansen Cave. This one is pretty beaten-up because visitors at the turn of the last century went souvenir hunting in the days before it was a protected property. Timpanogos Cave was discovered next by a spelunker belonging to an outdoorsman club in 1921. Finally, Martin Hansen's son and grandson spotted another hole located between the two caves while hunting for deer and it became known as Middle Cave. The three combine to form Timpanogos Cave National Monument, and small ranger-led tours proceed through all three chambers.
---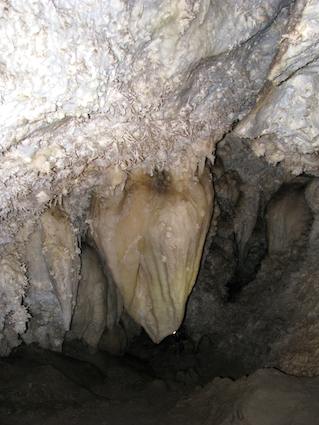 The Great Heart of Timpanogos
The signature formation, the iconic emblem of the entire system is known as the "Great Heart of Timpanogos." It does resemble the telltale shape of a human heart although perhaps not so much in this particular photograph since I'm not a very good photographer. There are better representations available on the Internet. It's actually quite massive: over five and a half feet long and estimated to weigh two tons. Scientists believe that it may include three or possibly four distinct stalactites that fused together over time as water dripped across in thin sheets over millennia.
---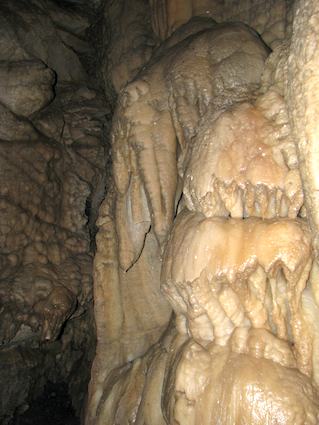 Flowstone
There are plenty of other formations, of course. It seems that just about every cave system we visit is noted for some particularly "rare" formation found in abundance there but almost nowhere else. Timpanogos is no exception. Here it's the large concentration of helictites. These are kind-of twisty looking structures that seem to defy gravity. Scientists believe they have a simple explanation. The theory is that it occurs when hydrostatic pressure and capillary action moving in somewhat random directions happen to exceed the force of gravity. Timpanogos is also known for its flowstone which tends to occur as water falls down along cavern surfaces such as existing formations (e.g., the Great Heart), walls or floors.
Guests are returned to their own devices at the conclusion of the cavern tour. The final reward is being able to walk downhill all the way to the Visitors Center.