I like good beer, and we found plenty of exceptionally good beer in Scotland. We conducted a fair amount of research to find a representative sample of breweries and pubs recognized for their Real Ales. We took great pride in not drinking a single massed-produced beer during our visit. Everything we consumed came directly from hand-pulled taps on cask-conditioned kegs, served in their natural settings. We visited the Bride of Allen Brewery outside Stirling, the Moulin Brewery Hotel near Pitlochry, and the Lugton Brewery southwest of Glasgow.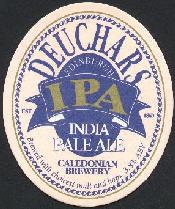 Caledonian Brewery - Deuchars IPA
I didn't actually visit the Caledonian Brewery but got this coaster at the Clachaig Inn near Glencoe. The inn took great pride in its selection of Real Ales, and kept several obscure (and very tasty) brands available in rotation. Certainly one of the most enjoyable beverage experiences has to be sipping a pint of Fraøch Heather Ale pulled expertly from a properly conditioned, brewery-fresh cask, while relaxing next to a roaring woodstove on a brisk winter day.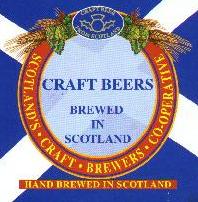 Logo of Scotland's Craft Brewers Co-operative
This isn't a coaster but is actually the logo of "Scotland's Craft Brewers Co-operative." The Co-op based their operation at the Lugton Brewery. We arrived to find it closed. A gentleman there explained that the Co-op was in the process of moving to a new location, but he was kind enough to unlock the pub, show us around, and provide us with some promotional material. He also said we were probably some of the last people to see the Lugton Brewery in its original condition. Let's hope the move goes well, and best of luck to the Co-op. May real ale always be available in Scotland.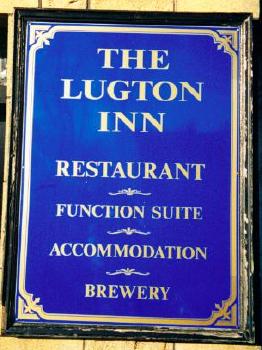 Lugton Brewery Sign in Winter 2000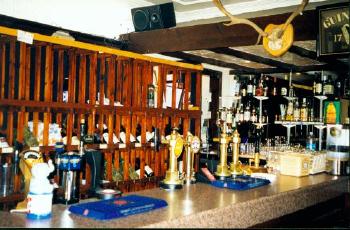 Lugton Brewery Interior in Winter 2000
You may also be interested in my Moulin Brewery and Hotel page (includes additional photographs).
---
---