<-- if you enjoyed this page, please consider clicking the +1 button. Thanks!
Select Beaches We Visited
Saint-Martin (March 2011)
There are more than twenty beaches on the island of St. Martin, a space only a little larger than thirty square miles, so there are plenty of options. I'm not really a beach person and we remained almost entirely on the French side of the island so this is by no means an all-encompassing description of what's available. Far from it. Rather, I spent most of my time away from the seashore. Nonetheless we did spend a fair amount of time on three of the French beaches during our travels and these are my personal recollections. You may agree with my impressions or you may not but I'm sure you will have an enjoyable stay at any of the many beaches on the island.
| | |
| --- | --- |
| | |
| Lively Orient Beach | Saint-Martin |
Orient Beach, well everyone has to make at least one trip to Orient Beach during their lifetimes. That's what all the guidebooks and websites say, anyway. Frankly it would have been embarrassing to go all the way to St. Martin and not go to Orient Beach at least for a little while. It's an absolutely gorgeous beach on the northeast side of the island. The setting is impressive with its long sandy crescent, a backdrop of mountains at its northern end, and sweeping views of the sea and offshore islands. Every water-oriented activity imaginable is available mere steps away: jet skiing; parasailing; snorkeling; wind surfing; sailing; you name it and it can be had here.
This is a very popular spot. You'll enjoy that facet if you like crowds, less so if you like privacy. Vendors stake out swaths of territory with arrays of beach chairs and umbrellas. One can rent a comfortable place to sit for just a few bucks a day, often with a couple of rum punch drinks thrown in for good measure. If you need more or if you get hungry after lounging for awhile seaside, there are innumerable open-air barbecue shacks with a variety of food options and great views. There are also swarms of wandering vendors weaving between sunbathers selling everything from beach blankets to Caribbean music CD's to aloe vera massages. Most of them are very pleasant and quite accepting of a polite "no thank you" although a small minority are rather more aggressive to the point of being annoying. Again, you'll either take that in stride or you'll want to try another beach instead. The crowds, the commerce and the sand all converge here along Orient Bay. I was fine for about three hours but then I craved a quieter spot.
---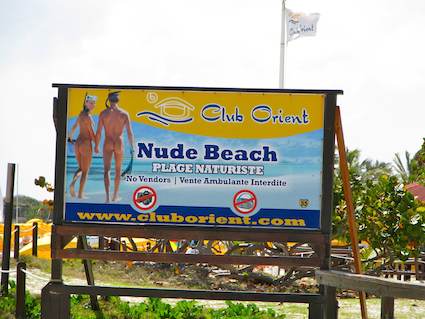 We Kept to the Safe Side of this Line
I would be remiss if I didn't mention that the far southern end of Orient Beach is clothing optional. We are absolutely NOT the clothing optional types but we don't have any issues with people who think differently in that regard either. Of course we became very adept at keeping our field of vision oriented towards the northeast lest we catch an inadvertent glimpse of a naked geriatric. If the folks strutting their stuff in public looked like the people on the billboard, well, I might have been tempted to take an occasional peek. That wasn't the case. It seemed like there was an unwritten rule that nudists here had to be at least sixty years old, overwhelmingly male, and in need of fewer calories or a better exercise regime. I'm truly glad they have a positive body image. I just don't want to have to look at it, thank you. If the sight of the human form in all of its glorious shapes and sizes is a cause for concern, either from an aesthetic or moral perspective, then one would want to lounge far, far removed from the southern end of Orient Beach. I will note that we became pretty much immune to it all after about fifteen minutes and it didn't really register much after that.
Easy parking can be found at the southern end of the beach, though. Drive like you're heading to Club Orient, except take the road to the left as one approaches the entrance. This will lead to a large parking area directly behind Pedro's on the border between the clothed section and clothing optional section of Orient Beach. Stay to the north of the line of boulders if you want to remain where things are a bit more modest.
---
Remote Pinel Island Beach
Pinel Island and its beaches are considerably more secluded. It's a natural preserve, a designated park, so it's undeveloped except for the small number of beachside restaurants that open only for the day. Everyone has to leave the island at night.
The only way to get to them is by boat from the French side at the little wharf in the town of Cul-de-Sac. A few dollars purchases a round-trip on a wooden fishing boat converted into a primitive water taxi with rows of benches. The guidebooks might lead one to believe that it's off the beaten tourist path and primarily visited by locals. If that were the case in the past or occasionally even the case today, that wasn't true during our visit. Vans from the cruise ships were dumping passengers at Cul-de-Sac for day trips to Pinel. This is hardly an unknown destination anymore assuming that was once true. Still, it's out of the way and a bit of a hassle compared to some of the more well-known beaches so it wasn't swarming with people. Pinel had a decent crowd, enough to provide a thriving business to the restaurants and filling the small beach closest to the wharf, but it's much quieter, smaller and less active than a lot of other places.
We lounged, had a nice lunch and decided to explore the island. Trails have been blazed over and around Pinel to keep people from trampling over the rest of the vegetation in the park, and it takes only a few minutes to walk across the summit to the ocean-facing side of the island. We saw two beaches on this less visited side of the island. Neither of these beaches had any amenities and they are almost totally deserted. We saw only a single person on one beach and nobody on the other. We later wandered over to the snorkeling area. We didn't have time to participate during our visit but we've heard the snorkeling here is supposed to be great.
Pinel Island is a wonderful place for a day at the beach if you want to spend some time in a more relaxed, natural setting. It's probably not be a good choice if you're on a tight schedule, though. The water taxis run on island time. You'll get back to St. Martin eventually but it might not be the exactly the time you've been told or anticipated. We noticed several of the cruise ship passengers getting a bit nervous. Figure in some wiggle room and you should be fine.
---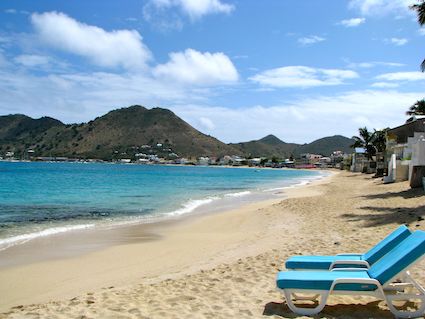 Narrow Beach at Grand Case
Finally, we spent some nice hours on the beach at Grand Case. That shouldn't be so surprising since we were staying at a small hotel on the Grand Case beach, with our patio just a few steps away from the Caribbean sea, and its view of Anguilla across the channel as our backdrop. I certainly liked if for the convenience factor although that might not make sense for someone staying in another town. Grand Case is full of amazing restaurants and many of them operated companion beachside bars with cheap beverages and scaled-back menus. Many of them also accepted Dollars at the same rate as Euros when paying with cash. That was quite a bargain. There are also a number of lolos -- inexpensive open air barbecue shacks -- within close proximity. Indeed, there were many different food and beverage options.
Once again, Grand Case didn't compare with Orient Beach in terms of activities or people watching. It's also a very narrow beach. That didn't concern me. However if that's not your style then this probably isn't the beach for you.