<-- if you enjoyed this page, please consider clicking the +1 button. Thanks!
Astoria to Florence, Oregon
Oregon USA's Northern Coastline
| | |
| --- | --- |
| | |
| Cape Meares Lighthouse Lens | Cape Meares & Yaquina Head |
We took a detour about ten miles west of Tillamook, Oregon to the Three Capes Scenic Drive, putting most of the Sunday traffic behind us. We stopped first at Cape Meares and climbed up to the red lens of the lighthouse.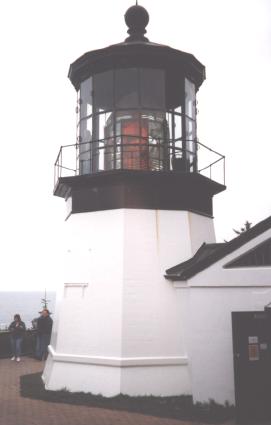 Cape Meares Lighthouse Lens
Cape Meares is Oregon's shortest lighthouse, just 38 feet from base to tip. An attractive if diminutive structure, it is hardly taller than the attached workroom. Don't let the squat shape fool you, though. It sits atop a cliff that's more than 200 feet high and its light could be observed 21 miles out to sea back in the days when it served as a functional navigation aid. In actuality it didn't need to be much higher than the surrounding landscape since the cliff itself provided all the elevation it needed.
The tower took shape in 1890, constructed of bricks made locally on site and formed solid walls fifteen inches thick. This would allow it to withstand even the most fierce storms as it guided ships away from impending danger. It housed a Fresnel lens common to lighthouses of the era, a very powerful first order lens illuminated by an oil lamp. As technology change the oil lamp was replaced with an oil vapor light and then by electricity. The lighthouse was decommissioned in 1963 and replaced by a light affixed to a much less romantic structure a few feet away. Today the Friends of Cape Meares Lighthouse and Wildlife Refuge preserve the lighthouse and offer guided tours to thousands of visitors each year.
---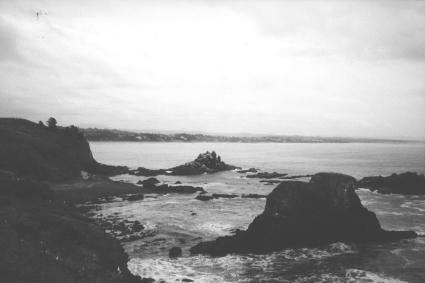 Yaquina Head Landscape
We enjoyed breathtaking scenery as we rolled down a highway graded into contours of a rugged coastline. As we continued south, and just outside of Newport, Oregon, we took another slight detour for the Yaquina Head lighthouse.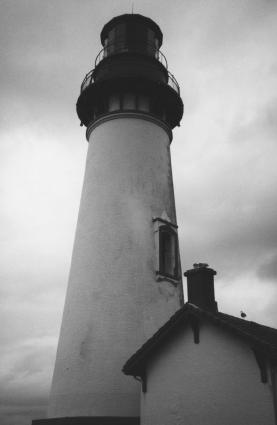 Yaquina Head Lighthouse
In stark contrast to Cape Meares, the tower atop Yaquina Head is Oregon's tallest lighthouse at 93 feet. It has a focal plane of 162 feet above sea level when combined with its elevation on top of the bluff. This is another major navigational aid with a large, first order Fresnel lens, having been illuminated since 1873 and continuing to operate through the present day. The original lens is still in place and it shines some 19 miles out to sea, although it was automated and converted to electrical power quite some time ago. For much of its recent history it was not open to tourists. In 1993 though, the Coast Guard turned it over to the Bureau of Land Management and visitors can once again climb all 114 steps to the top of the tower.
Although the heights provided great views, an overpowering stench from a nearby bird colony forced us back into the car a lot quicker than we expected. That evening we stayed in Florence, a quaint and quiet little town that provided plenty of rest from a long day on the road.
Readers who have an interest in lighthouses might also want to check my Lighthouse Index page.
Lunch: Pelican Pub & Brewery (Pacific City, OR).
Tasting: Rogue Ale Public House (Newport, OR).