<-- if you enjoyed this page, please consider clicking the +1 button. Thanks!
The Cleetwood Trail
Crater Lake National Park
Klamath County, Oregon, USA (July 2012)
| | |
| --- | --- |
| | |
| Detail From Cleetwood Trailhead Sign | Cleetwood Trail at Crater Lake |
There are many trails to choose amongst at Crater Lake National Park. The Cleetwood Trail leading down to the shores of Crater Lake at Cleetwood Cove would be a good option if one has limited time available. It's quick, it's not too strenuous and it has a nice reward at the end. The trailhead is also easily accessible from the road and is served by a large parking area.
Getting there is simple assuming the eastern side of Rim Drive is open, which isn't always a sure bet except in mid to late Summer. We arrived during the latter part of July and the road had been opened only a week earlier due to lingering snow cover. Cleetwood Cove is on the northern side of Crater Lake and the trailhead is about four and a half miles east of where North Entrance Drive intersects with Rim Drive, or about 13 miles up from Crater Lake Lodge.
The GPS Coordinates which should place you on Rim Road directly in front of the trailhead and parking lot are: 42.979755,-122.083233
---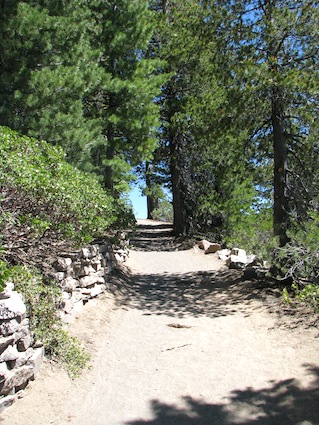 Smooth, Wide Trail Down to the Lake
It's easy to tell from the trailhead sign that the Cleetwood route descends the caldera wall rapidly through a series of switchbacks. That is indeed the case however the trail is wide and well-maintained even if a bit dusty due to the powdery volcanic soil. The trail descends from 6,900 ft to 6,176 over a distance of 1.1 mile. This is approximately an 11% grade. That seems like it's pretty steep, and there's no denying that, however it's not as bad as it may sound.
---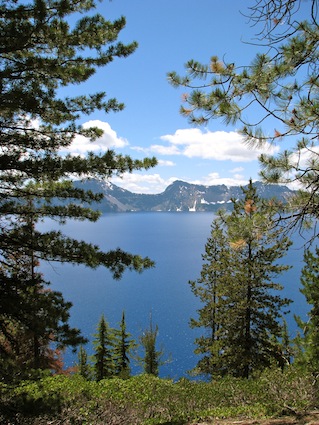 Great Trailside Views
The trail is smooth and there are plenty of benches to stop at and rest, and admire the amazing views of Crater Lake. It should take about a half-hour to descend and perhaps a little longer than that to complete the more strenuous return trip. However it is the only way down the surface of Crater Lake on foot should one ever want to experience that. We heard from one of the rangers that there was once a trail down from the Crater Lake Lodge, although apparently it was replaced by the Cleetwood trail in the 1960's. Absent a helicopter, this is your only option though.
---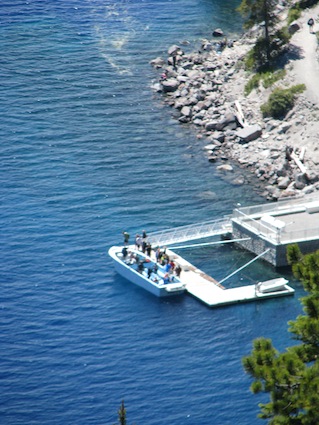 Destination: Cleetwood Cove
There are a number of reasons why people hike down the trail to Cleetwood Cove. Some people go there to fish. The signage indicated that people do not even need a fishing license to do that. Rainbow Trout and Kokanee (a variant of Sockeye Salmon that live in freshwater lakes) are two introduced species that commonly thrive here. The National Park Service says, "because they are not native to the lake, fishing is not only allowed, it's encouraged." So anglers flock to Cleetwood Cove, the only place where they can get a line into the lake.
A few brave souls come down to the lake to swim. The water on the surface warms up to only 55° or 60° in the middle of summer so it doesn't sound particularly inviting to me, however there were a number of people jumping into the lake and then quickly scrambling back out. It seemed to be more of a dare or bragging-rights activity for teens and young adults rather than actual "swimming" per se. Either way it's allowable for visitors who wish to subject themselves to an extremely chilly dip in the indigo waters.
Most people hike all the way down for a third purpose. The dock at Cleetwood Cove is the starting point for concession-operated boat tours around the lake. That was our destination.