<-- if you enjoyed this page, please consider clicking the +1 button. Thanks!
The Big Obsidian Flow
Deschutes County, Oregon, USA (July 2012)
| | |
| --- | --- |
| | |
| The View from Above | Newberry National Volcanic Monument |
The Big Obsidian Flow has an appropriate albeit unimaginative name for this geological structure in central Oregon, just east of the Cascades. It is indeed a big obsidian flow.
It's part of the vast Newberry National Volcanic Monument, founded in 1990 within the Deschutes National Forest, and specifically within the Newberry Caldera unit. Getting there from Bend, Oregon isn't difficult. Simply drive south down Highway 97 a little more than twenty miles, then head east on County Road 21 for another fifteen miles, and that's about it. The trip shouldn't take much more than an hour.
The Big Obsidian Flow is part of the larger Newberry Caldera, and was created during a period known as the Big Obsidian Eruptive Episode that happened around 1,500 years ago. A fissure opened on the southern edge of the volcanic caldera and magma flowed over an area of approximately 1.1 square miles. Nothing can grow on these barren rocks even fifteen centuries later. The flow, when viewed from Paulina Peak, looks nearly the same as when it first pushed out from the edge of the caldera and cooled. It is the youngest lava flow in Oregon and serves as a reminder that this entire area of Oregon is actively volcanic.
---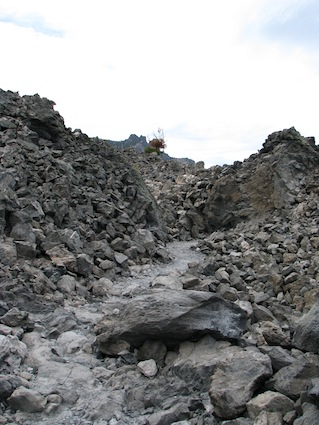 Hiking Through the Big Obsidian Flow
The U.S. Forest Service has constructed a trail through the Big Obsidian Flow that covers about seven-tenths of a mile in a loop. It's an easy trail that should take an hour-or-less depending on how often one stops to read the interpretive signs or admire the scenery. While relatively safe, well marked and with manageable elevation changes, one must still take care on the trail. Obsidian is a volcanic glass and sharp edges are exposed at various places throughout the flow. It is sharper than surgical steel and it can cut through flesh with ease. Navigating through the flow without a pre-cleared trail would be practically impossible. Closed shoes are required, and dogs are prohibited for safety reasons. Take it easy and all will be fine. Wander away from the trail or run through it too quickly and it could be rather dangerous should one slip or grab a rock to prevent a fall.
---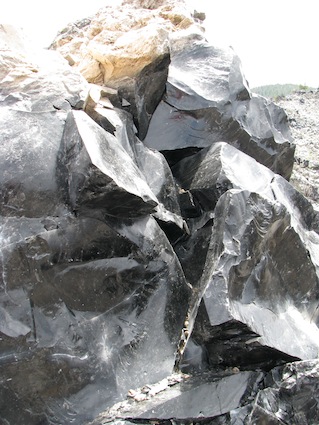 Volcanic Glass Everywhere
Obsidian is not one of the more common volcanic rocks. Even at this spot, named explicitly for the material, obsidian composes only about ten percent of the flow with the remainder being pumice. Large outcroppings of obsidian at the flow are indeed impressive and are spread throughout the site. The obsidian here takes on a typical jet black color denoting its particular purity. Native Americans valued obsidian for its ability to be fashioned into cutting tools, and this was a prime quarrying spot. Obsidian from this location was traded throughout the Pacific Northwest by way of the Columbia River.