<-- if you enjoyed this page, please consider clicking the +1 button. Thanks!
Currituck Beach Lighthouse
Corolla, Currituck Co., North Carolina (March 2012)
| | |
| --- | --- |
| | |
| Currituck Beach Lighthouse | Corolla, North Carolina |
Our trip to Currituck Beach Light provided a nice opportunity for a drive-by sighting. Unfortunately that's the best we could do during the winter. It's open and free to the public between Easter and Thanksgiving (with a small fee to climb the lighthouse tower). However it's closed during the winter, even the grounds. They use that time to continue with restoration work, something we notice during our visit when we spotted someone in the lighthouse tower cleaning windows. The best we could do was take some longer distance shots from the adjacent park. I'd love to return when it's open. Ordinarily this would be one of the more accessible lights on the Outer Banks.
Currituck Beach was the final location along North Carolina's Outer Banks, the "Graveyard of the Atlantic," to receive a lighthouse. It closed the forty mile dark space between Cape Henry in Virginia and Bodie Island (see my Bodie Island Lighthouse page). Why did it take so long? Lighthouses had started arriving on the Outer Banks nearly a century earlier when the Currituck Beach light was constructed in 1875. The final delay was the Civil War. Confederate troops damaged or destroyed lighthouses along the North Carolina coast to hamper the efforts of Union warships. With the war concluded and with the coast continuing to be a danger to mariners, the gap had to be closed. The light was built and left unpainted to differentiate it from other lighthouses along the coast and aid in identification. This provides an opportunity to view the excellent masonry and brickwork.
---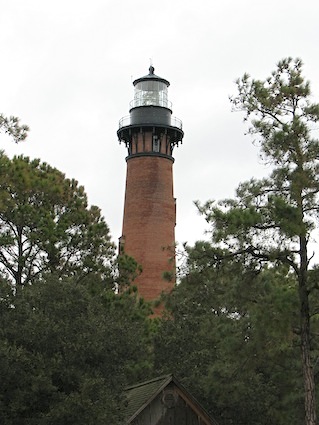 Lighthouse Through the Trees
The tower rises 162 feet with a focal plane of 158 feet, lit by the original first order Fresnel Lens. That's a very large lens like several others along the coastline, owing to the need to shine far out to see in this particularly treacherous area. It's also rather unusual for an original Fresnel remain in place continuing to serve as an active aid to navigation. This is doubly remarkable because of the light's history of neglect during a period when people did not appreciate the beauty of these stations as much as they do now. It went through a slow decline after being automated in 1939. A nonprofit group, Outer Banks Conservationists (OBC), came to the rescue beginning in the 1980's. They've been slowly restoring the lighthouse and the keepers quarters, and the Coast Guard granted OBC title to the light in 2003.
---
Readers who have an interest in lighthouses might also want to check my Lighthouse Index page.