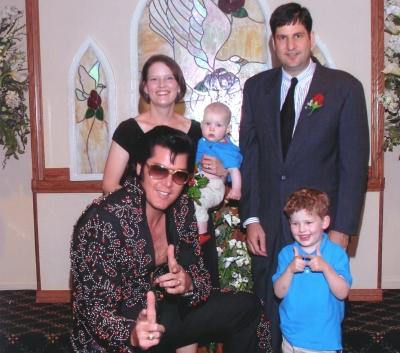 Elvis Wedding, actually "Renewal of the Vows"
Since our friends were getting married on Sunday and I suppose love was in the air, somewhat at the spur of the moment we decided to follow their lead. Technically ours wasn't a wedding but a renewal of the vows" since we've actually been married for many years, but the ceremony was essentially the same. Except for Elvis. And the vows themselves were a little different, relying heavily on quotes from Elvis Presley's most famous songs. I seem to recall my wife vowed never to step on my blue suede shoes and I'm pretty sure ahunk-ahunk-a-burnin'-love was mentioned somewhere too.
I've seen many Elvi before, and I'm a big fan of the whole Cult of Elvis, and I can honestly say that our Elvis was exceptionally good. Our older son was thrilled that he got to meet the "real" Elvis, and for many days after the ceremony he sang "We Love Las Vegas" (his misinterpretation of Viva Las Vegas).
---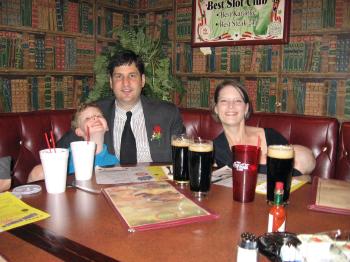 Wedding "Reception" at Ellis Island Casino & Brewery
After our fake wedding it was time for our fake reception. Once we finished our thing with Elvis we all piled into a stretch limo (including the couple who would be married for real the next day) and headed towards Ellis Island Casino & Brewery for lunch. Regular readers of this website know that our hobby is visiting breweries and brewpubs, and Ellis Island was about the only one in Las Vegas that we hadn't tried before. I have more information about this brewpub at MY Ellis Island Brewery visit page.
---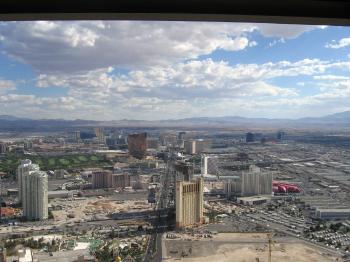 Want to borrow this image for your website or blog? Please read Terms & Conditions
The Las Vegas Strip viewed from the top of the Stratosphere Tower
Finally, we had our fake honeymoon. We hopped onto the Las Vegas Monorail and rode down to the Stratosphere Hotel. The monorail is a great way to travel along the eastern side of the strip with kids. They love the view and it's a lot safer and easier than trying to load them into a taxi, getting car seats in-and-out, and then trying to find someplace to store the seats once you get to the final destination.
The Stratosphere Tower perches 1,149 feet over the northern end of the Strip and is billed as "the tallest freestanding observation tower in the United States and the tallest building west of the Mississippi River." It offers 360 degree panoramic views of the entire Las Vegas basin. Additionally there are three thrill rides at the top of the Stratosphere for those who aren't thrilled enough by the view. I did not participate in these activities, but some of the guys in our group decided to give them a try. I questioned their sanity and they questioned my courage, all in good fun.
---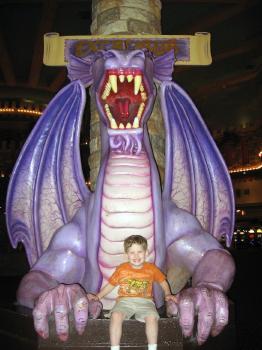 Want to borrow this image for your website or blog?
Please read Terms & Conditions
A Menacing Dragon Guards the Excalibur Hotel
We had a lot of time to kill the next morning before our friends' wedding, and needed to find something to do with two small kids. We actually found that walking among the casinos and looking at the sites was enough to keep them occupied and interested. We visited the Shark Reef at Mandalay Bay, wandered among the Egyptian artifacts at Luxor, checked out knights in shining armor and dragons at Excalibur, strolled along city streets in New York New York, and visited the lion habitat at MGM Grand. I'm not sure this would have kept them occupied if we'd been there for several days but it was fine for a long-weekend.