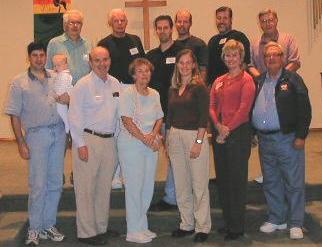 Sylvester Descendants
---
This is a story about the Internet and how it united a family 75 years after it was torn apart by an unfortunate event. George W. Sylvester bought land in Plainview Minnesota in 1856 and raised a family. Two of his sons operated a successful bank for decades and were pillars of the community. The bank failed suddenly in 1925. One brother passed away and the other went to prison after a year as a fugitive. Many believed it was an innocent situation that spiraled out of control rather than an intentional, willful act of embezzlement. Nonetheless the failure and ensuing trial ruined the family's reputation in their small rural town. The family had no choice but to leave and they scattered in many different directions. It became a dark secret hidden from later generations. Much of this is described in the The Sylvesters of Plainview, MN book which I have been slowly transcribing and adding to my website.
I am indirectly related to this family. My ancestor, Charles C. Sylvester was George W. Sylvester's brother. Nobody in my extended branch of the family knew about the bank failure as far as I can tell.
I very innocently put some basic information about the Plainview Sylvesters on my genealogy web site. Over the years a number of George W. Sylvester's descendants found the web site and contacted me independently. They shared the story and I was glad to help them contact each other. After a lot of research, hard work, and dedication by many different people, the Sylvester family finally returned to Plainview for a reunion on August 16, 2002. Finally the story had a happy ending. While I played only a small part helping the Plainview Sylvesters get back together, I was pleased to be able to provide some assistance, and was grateful to be able to attend their reunion.
The photo above shows the Sylvester family attendees. I'd list all their names but this is the Internet after all, and anyway they know who they are. ;-)
This story was featured in the Rochester [Minnesota] Post-Bulletin August 17, 2002, "History comes alive for Plainview family, Descendants of once-prominent family hold reunion."
---
In Memoriam - William Sylvester Jewell & Kenneth Vance Olson
William Sylvester Jewell
1932-2003

Kenneth Vance Olson
1933-2004
Bill Jewell and Ken Olson were the driving forces that reunited the long-separated Plainview Sylvesters. They both understood and appreciated history, not just as facts and dates, but in the context of their ancestors and their response to events and challenges in their daily lives. Bill had an intuitive ability to uncover long-lost information and track down descendants from family lines we weren't even sure existed. Ken had an inquisitiveness that lead to successful membership in more than two dozen different genealogical societies. More importantly, Bill and Ken were true gentlemen and friends.
Bill and Ken both passed away not long after the reunion. I am grateful for having known them and I know they were pleased to see the results of their efforts by bringing a family back together. They will be missed.
This is the last photograph in this series.