<-- if you enjoyed this page, please consider clicking the +1 button. Thanks!
Rural Scenes
Beaver Island, Michigan, USA (September 2000)
| | |
| --- | --- |
| | |
| Kuebler Trail | Beaver Island, MI |
Beaver Island is literally covered with miles of hiking trails. Many of these follow the old logging roads and rail corridors that were used to transport timber from remote corners of the island to St. James where steamships docked to refuel. The old steamships burned logs to fire their boilers and the island became a convenient stopping point for Great Lakes shipping destined to and from ports such as Milwaukee and Chicago.
The Kuebler Trail followed an old railroad grade on the northwest side of the island, north of the airport. We began at the Protar's Tomb trailhead. Feodor Protar was a much-beloved local character and a bit of a recluse who always went out of his way to help everyone he could. His friends built a tomb for him after he passed away in 1925. The trailhead was also marked by a memorial to a fatal 1908 logging train wreck that took place nearby. From here the trail cut north through thick forest until it arrived at the flat, open coastal plain of McCauley's Point. [You may also be interested in my McCauley's point photograph and description].
---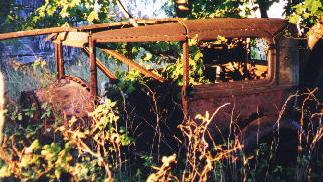 Abandoned Vintage Automobile
We stumbled onto all kinds of interesting items during our hikes around the island. As we prodded along Sloptown Road in the north central part of Beaver Island we came across this abandoned automobile rusting into the underbrush. I had no idea what the make and model were, but it looked like a sedan out of an old 1930's gangster movie. I could almost imagine bootleggers firing from the windows with Tommy Guns, although I doubt anything that extreme ever happened here. More than likely a local farmer used it until it couldn't be repaired any further and then ditched it in a remote corner out of sight. In a sense it seemed logical to find abandoned automobiles, logging equipment, farm machinery and other large consumable in this remote location. It would be much easier to leave something in the woods and let it return to nature than to drag it all the way to a mainland salvage yard for a few dollars as scrap.
---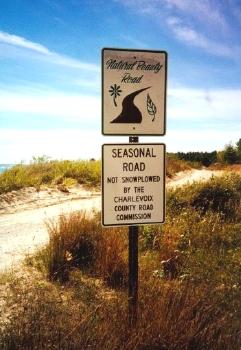 Iron Ore Bay
Beaver Island is not heavily populated, but it gets even less so the further one travels from St. James Iron Ore Bay, at the island's southern extreme, is about the furthest point . It's not difficult to reach and it can easily be combined with a visit to the Beaver Head lighthouse [You may also be interested in my Beaver Head Lighthouse and Fog Signal Station photographs and description]. The road was amazing. It was a dirt track, not gravel, cutting through dunes with unobstructed panoramic views of Lake Michigan. We found a public beach at Iron Ore Bay and stopped for a picnic. We saw maybe one or two cars pass by during this entire time.
Readers who want to see more about Beaver Island can check my Beaver Island Index page.