<-- if you enjoyed this page, please consider clicking the +1 button. Thanks!
Lighthouses
Beaver Island, Michigan, USA (September 2000)
| | |
| --- | --- |
| | |
| St. James Lighthouse at Whiskey Point | Beaver Island, MI |
A lighthouse came into view as the ferry approached Beaver Island. The ferry pointed straight towards St. James, the principal town and commercial hub, straddling the waterfront of a natural harbor along the island's extreme northeast corner. The lighthouse sat atop Whiskey Point at the entrance to Paradise Bay, the body of water created by this natural harbor. The brick tower went up in 1871, rose 41 feet, and featured a fourth order Fresnel lens. Currently it is an active but automated light. Structures where lighthouse keepers once lived had been removed. The grounds were open to the public but the tower was locked.
---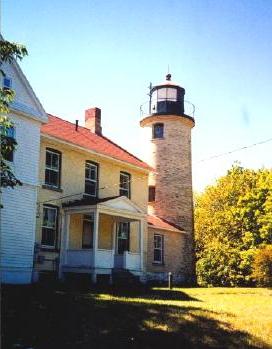 Beaver Head Lighthouse
The Beaver Head Lighthouse was easily accessible on the island's southern end. It no longer functioned as a lighthouse, having been replaced by a radio beacon across the road in 1962, but it still served a useful purpose. The Charlevoix Public Schools maintaines a residential alternative high school education program at this facility, and students have been instrumental in the lighthouse restoration and maintenance.
The lighthouse featured a 46 foot brick tower with a fourth order Fresnel lens and was constructed in 1852. It is reputed to be the third oldest Great Lakes lighthouse. The residential quarters, shown to the left of the tower in this photograph, were added in 1866.
---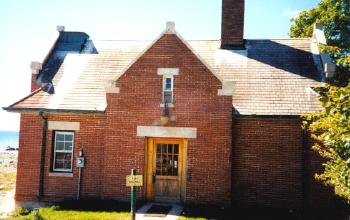 Beaver Head Fog Signal Station
Beaver Head light had an associated fog signal building built in 1915. During our visit the grounds and the tower were open to the public. Assuming you've made it onto Beaver Island successfully, it's a simple drive down to the light. Much more information is available from the Beaver Island Light Station website.
Readers who want to see more about Beaver Island can check my Beaver Island Index page, and those with an interest in lighthouses can check my Lighthouse Index page.