<-- if you enjoyed this page, please consider clicking the +1 button. Thanks!
Scenic Lakeshores
Beaver Island, Michigan, USA (September 2000)
| | |
| --- | --- |
| | |
| Mt. Pisgah Scenic Overlook | Beaver Island, MI |
Mt. Pisgah is an overgrown sand dune at the island's northwest corner. It rises to 730 feet just a quarter mile from shore and it's an obligatory climb. We pulled ourselves up this steep crumbling sandpile to take in the scenery, and it was a spectacular view. From the summit we took this photograph looking due west four miles across Donegal Bay towards High Island. Settlements once dotted High Island until the 1920's when they were abandoned. Today it's part of Michigan's Beaver Islands State Wildlife Management Area. Wikipedia has a High Island page if you would like to know more.
---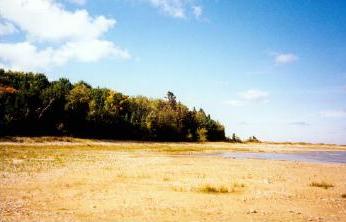 McCauley's Point
McCauley's Point was a little further down Beaver Island's western shore and marked the southern terminus of Donegal Bay. Here we found a broad, flat coastal plain. Beyond that grew thick forest. We arrived at the point by hiking along the Keubler Trail. [You may also be interested in my Keubler Trail photograph and description].
---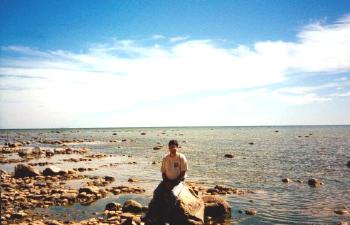 Iron Ore Bay
We found this panoramic view at Iron Ore Bay on the farthest southern shore. This shot pointed approximately southeast towards Michigan's lower peninsula. It was too far away to be seen but it was out there somewhere. The water remained shallow near the shoreline with a carpet of glacial stones peeking through the surface. I sat awhile and enjoyed the solitude.
Readers who want to see more about Beaver Island can check my Beaver Island Index page.