Charlevoix to Beaver Island Ferry
Beaver Island, Michigan, USA (September 2000)
| | |
| --- | --- |
| | |
| Beaver Island Ferry | Getting to Beaver Island, MI |
There are two ways to get to Beaver Island, by air or by boat. We took the ferry from Charlevoix at the northwest corner of Michigan's lower peninsula. Regular service was provided by the Beaver Island Boat Company although the schedule varied by the time of year and the day of the week, weather permitting. The 32 mile trip took about two hours. We brought our car with us so we made sure to book round-trip reservations well in advance. This turned out to be an excellent suggestion because there was a three day waiting list to leave the island the day we returned to the mainland. As much as we loved Beaver Island we were ready to return home when our visit came to an end.
Irish immigrants settled much of Beaver Island during its early history, and for that reason it's sometimes called "America's Emerald Isle." This same heritage applied to the ferry which is why the ship sported green accents and a large shamrock on the smokestack.
---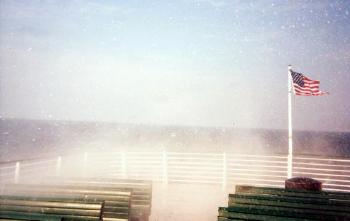 Crossing Lake Michigan
I'm not exactly sure what "weather permitting" means, but I believe we nearly found out during our voyage. Although the sun shone brightly through blue skies, the boat plowed through rolling wind-driven waves. You can get an indication of our misery by observing the stiffness of the American flag and the spray thrown across the back of the ship. In good weather people would ordinarily relax on this upper deck and enjoy the view. On this crossing everyone remained inside and did their best to ward off seasickness. Some failed.
I wasn't kidding about getting to Beaver Island by air. The airport has a well-maintained asphalt runway a couple of miles away from St. James, the main town. Many Beaver Island residents fly their own personal aircraft. Also, Island Airways provides regular passenger service from Charlevoix and rental vehicles are available.
Readers who want to see more about Beaver Island can check my Beaver Island Index page, and those with an interest in ferries might want to check my Ferry Index page.