<-- if you enjoyed this page, please consider clicking the +1 button. Thanks!
Vinalhaven Ferry
A Journey Across Maine's Penobscot Bay (August 2009)
| | |
| --- | --- |
| | |
| Vinalhaven Ferry | Route from Rockland to Vinalhaven |
Ferries operated by the Maine Department of Transportation provide service from Rockland on the mainland to Vinalhaven Island, twelve miles out to sea in Penobscot Bay. Start the journey by reviewing this video and then discover greater details below.
---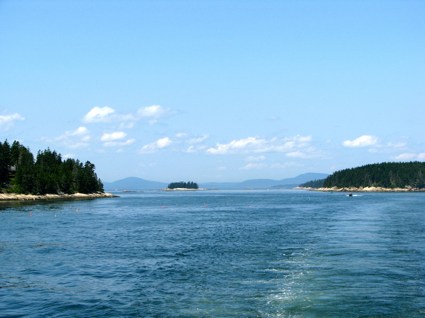 Islands Dotting Penobscot Bay
A pedestrian ride on the Vinalhaven Ferry is a dirt cheap scenic cruise across Penobscot Bay among the Fox Islands. The crossing takes about 75 minutes so a $17.50 round trip (2009 fare) provides two and a half hours of nautical enjoyment. Each ship departs scenic Rockland Harbor, cruises past the historic Rockland Breakwater and Owls Head Lighthouses, passes within yards of seabird rookeries, and provides amazing views of mainland coastal mountains and islands strewn like jewels atop the bay. Undoubtedly some crossings will be better than others. I can imagine times where fog obscures the view, where waves lead to seasickness, or where bitting winds, rain or snow confine passengers to the cabin. However, this wasn't one of those days. We had absolutely perfect weather with just the right temperature and low humidity. Calm seas caused only a slight roll. Blue skies and crisp views extended to the horizon.
Our destination, Vinalhaven Island, has an old history. The sea is an obstacle only in the age of the automobile but it served as a highway in earlier times. Islands with good harbors became attractive places to settle. An ancient Native American culture, the Red Paint People, may have lived on Vinalhaven as early as 5,000 years ago. European explorers noticed these rich waters and lush islands in the sixteenth and seventeenth centuries, but they remained remote, wild, isolated places. Permanent English colonists finally arrived during the later part of the eighteenth century to fish, farm and log. However, history shifted in the early nineteenth century when quarries supplied the famous Vinalhaven Island granite used to construct buildings and bridges throughout the eastern United States, an industry that would last for a hundred years.
---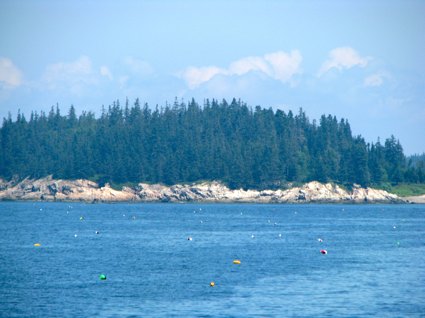 Vinalhaven Island Shoreline
All that remains of the many granite quarries are empty chasms filled with water, used by the locals as swimming holes. The economy depends on lobstering today. Vinalhaven has one of the largest lobster fleets in Maine and some of its most productive waters. Carver Harbor shelters working boats not pleasure craft. Lobstermen dot the bay with uniquely-patterned buoys to designate their traps, emptying them throughout the day and returning to harbor with their catch. The scene in this photograph taken along the edge of Vinalhaven Island is typical, with buoys seemingly everywhere extending to the shoreline. One can hardly imagine the vast armies of lobsters that must be scurrying along the seafloor to fill these traps over-and-over. Yet, that is exactly what happens and the area is literally crawling with crustaceans. Lobsters can lay tens of thousands of eggs and watermen take steps to assure as many as possible survive to maintain a sustainable population.
---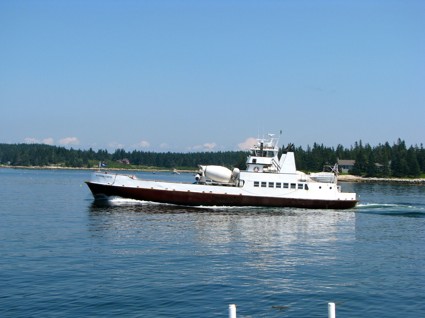 One of the Vinalhaven Ferry Fleet
There are as many as six scheduled crossings in both directions between Rockland and Vinalhaven on a summer day. Sometimes there are also unscheduled crossings that further increase access. The ship in this photo marked one such occasion, delivering cement mixers to and from the island. It's very easy for pedestrian or bicyclists to catch practically any ferry that makes the run even at the height of summer. Automobiles are another matter entirely. Maine uses small ferryboats for these crossings and perhaps a dozen or so cars fit onto the ship for any given crossing. Throw a tractor-trailer into the mix and even fewer cars will make it across. A limited number of advance reservations are available but the remaining spots go the those waiting in queue. It's not uncommon to see car passengers have to wait for the next ferry or worse, and indeed this happened to several on the particular morning we crossed. Single day trips to Vinalhaven by automobile are not recommended. It's possible to get "trapped" on the island overnight without a slot on a returning ferry, and with limited hotel accommodations already fully booked. That would certainly create an uncomfortable situation, and a backseat doesn't make a very good hotel room. A sign in the Rockland terminal warned passengers of this possibility.
---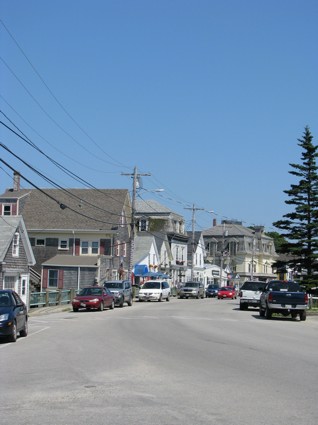 Main Street Vinalhaven
Same-day visitors don't need an automobile anyway. The town of Vinalhaven is a short ten-minute walk from the ferry terminal along a flat sidewalk past a lobster cooperative and other businesses catering to watermen and their needs. Nearby Main Street is only a couple of blocks long, hugging the scenic northern banks of Carver Harbor. There's a surprising amount of traffic considering its isolation. There's only a single place to buy gasoline, so what's going on? Actually, all island roads lead to town and the population explodes with summer visitors ironically attracted to Vinalhaven as a quiet place to relax. Certainly it's much less hectic than the mainland, although I would imagine the 1,200 permanent inhabitants might argue that point until at least those first crisp bites of autumn drive the summer people away.
There's plenty to keep a day-tripper occupied in those quaint downtown blocks until it's time to catch a ferry back home. There are art galleries, restaurants, and curio shops all in one compact area with wonderfully scenic views. We enjoyed strolling along with an ice cream cone in hand.
---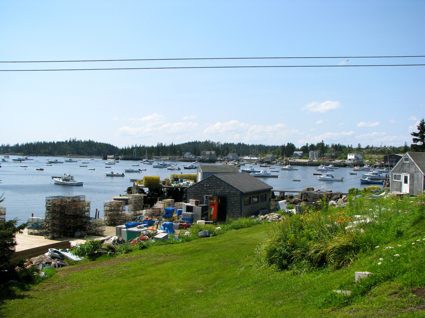 Vinalhaven Harbor
But Vinalhaven isn't about its visitors. It's a genuine town in its own right with a library, fire department, medical center, K-12 school, parks and a couple of churches. It doesn't take much walking to get away from the visitors, in fact just a few blocks along the eastern edge of Carver Harbor delivers one to a quiet residential area. Notice the scenic view of the harbor here in the photograph.
The rest of the island is much less accessible to pedestrians because there's only so much ground one can cover on foot in a day. Bicyclist have the advantage in this regard and can cover much greater distances along the shore and into the island interior, although roads quickly get rougher and narrower away from town.
Readers who have an interest in ferries might also want to check my Ferry Index page.