<-- if you enjoyed this page, please consider clicking the +1 button. Thanks!
Atlantic Puffins in Maine
Muscongus Bay, Knox Co., Maine (August 2009)
| | |
| --- | --- |
| | |
| Atlantic Puffin | Eastern Egg Island, Maine |
We left out of Port Clyde on an afternoon excursion to see the Atlantic Puffin colony on nearby Eastern Egg Rock, a 7-acre island on the outer edge of Muscongus Bay. Puffins had long disappeared from the Eastern coast of the United States in 1973 when this location because the initial prototype for the restoration of all subsequent seabird colonies. They had been wiped out both by human activities such as egging and hunting, as well as by displacement from other bird species. We'd found out about the colony after visiting the National Audubon Society's Puffin Project Visitor Center in downtown Rockland, Maine. The kids were captivated by the antics of those little birds and they wanted to see them in person.
---
Puffins Bobbing Along the Surface
Puffins are a type of Auk, and the Atlantic Puffin is one of three species. They are a pelagic bird, meaning they live on the open sea except to raise their young. Puffins breed in colonies along rugged coastlines or on rocky islands, burrowing into the soil or crawling into crevices. Atlantic Puffins aren't found ubiquitously around the Atlantic, rather they stick primarily to the North Atlantic, on the European coast down to northern France, across the British Isles, Iceland and Greenland, down along Atlantic Canada, and finally to the restored colonies of Maine of the eastern coast of the United States.
With their beak they almost resemble a parrot, and with their body shape perhaps a penguin, however, they are not related to either of these species. They flap their stubby wings with great speed as they shoot like a rocket from the open sea to their perch on the islet, and they are great fun to watch.
---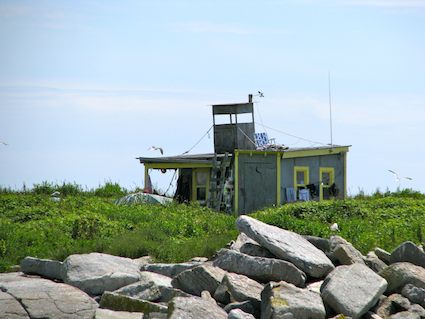 Puffin Research Station on Eastern Egg Rock
The story of the Atlantic Puffin restoration in Maine is remarkable. Scientists, university students and volunteers live on Eastern Egg Rock, keeping their eye out for the Puffins and making sure that the colony remains intact. So far they have been quite successful and the colony has grown to more than 100 nesting pairs. Imagine living in this shack on a tiny speck of rock, day-after-day for two or three weeks at a time. However there's no better seat in the house of a bird lover, not only for the Puffins but for many other species that occupy Eastern Egg Rock including terns, gulls, and guillemots, many of them rare and endangered themselves.
---
The Wyeth Compound on Benner Island
This photo doesn't relate to the puffins but it's interesting nonetheless. One passes the Wyeth Compound located on Benner Island leaving Port Clyde and heading towards the colony on Eastern Egg Rock. The painter Andrew Wyeth lived here each summer until he passed away, and his wife Betsy James Wyeth still lives here, several miles off the coast.