<-- if you enjoyed this page, please consider clicking the +1 button. Thanks!
Maine Lighthouse Museum
Rockland, Knox Co., Maine (August 2009)
| | |
| --- | --- |
| | |
| Fresnel Lens | Maine Lighthouse Museum, Rockland, ME |
The Maine Lighthouse Museum occupies prime space along the waterfront in the Town of Rockland, sharing a building with the Penobscot Bay Regional Chamber of Commerce Information Center and the police department. It is the largest, most impressive collection of lighthouse and lifesaving paraphernalia that I have ever seen. It is rightly considered the premier collection of lighthouse-related material in the United States. Even more amazingly this was almost entirely the creation of a single individual, Kenneth Black, who took a small collection maintained at the Rockland Coast Guard Station and built it into the world-class set of exhibits in its much expanded location before he passed away in 2007. We visited the museum in the summer of 2009 and learned that it was experiencing financial difficulties due to the general state of the economy. It seems that many people also felt that it would be a shame to lose such an important museum and have rallied to provide financial support. Those who view this page might consider following the link to the museum and making a contribution.
---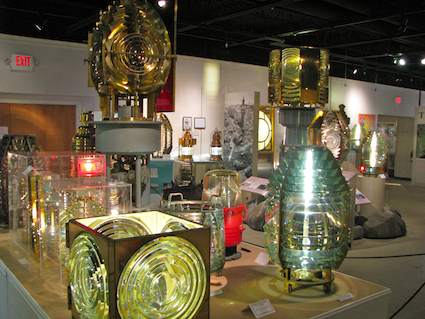 A Large Display of Lights
The Maine Lighthouse Museum houses the largest number of Fresnel lenses on display within any single facility in the United States. I've been to many lighthouses and local history museums and generally I've seen one, maybe two of these lenses at any given location. Here they are everywhere. Lens after lens of nearly every imaginable size. Retired lenses from all throughout the Maine coast all seem to have found their way to this single facility. It's a Fresnel paradise.
---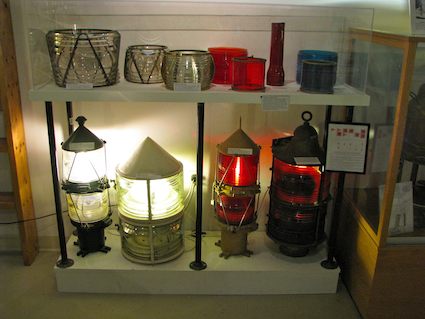 Lanterns of Various Sizes and Functions
Lenses are a major focus at the Maine Lighthouse Museum, but there's so much more to see. All sorts of equipment find a home here including buoys, sound signals, horns, bells, brassware, tools, lamps and boats. Exhibits feature lightkeepers and their families, and the household items they brought to their remote outposts to feel more at home. Heavy emphasis is also placed on the U.S. Life-Saving Service, and the specialized equipment they used to rescue people from ships in distress. Additionally there are a number of dioramas and models which provide detailed lighthouse and horbor scenes in miniature. The Maine Lighthouse Museum is definitely worth a stop to visitors along the Midcoast.
Readers who have an interest in lighthouses might also want to check my Lighthouse Index page.