<-- if you enjoyed this page, please consider clicking the +1 button. Thanks!
McIlhenny Co.'s Tabasco® Factory
Iberia Parish, Louisiana, USA (March 2007)
Tabasco peppers grow commercially in several places including Louisiana, Central America and South America, but the famous Tabasco® Sauce is bottled in only one location: Avery Island, deep in the heart of Louisiana's Cajun country.
| | |
| --- | --- |
| | |
| Tabasco Visitors Center | Avery Island, Louisiana |
This sign welcomes visitors to the McIlhenny Company's Tabasco® Sauce facility. Peppers age and ferment in oak barrels for several years, much like the barrel seen in the photograph above. Used barrels come from whiskey distilleries and are cleaned and refurbished. Salt from Avery Island's vast natural deposit is used to form a thick layer on top of each barrel. This creates an airlock that allows gases formed by fermentation to escape but blocks any possible contamination from the outside world. After proper aging, the concoction is strained, mixed with vinegar, fully blended, bottled and shipped worldwide.
---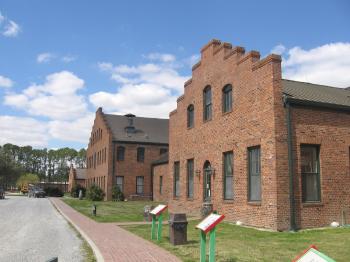 Tabasco® Factory
This is the Tabasco® processing plant and here is where all of the action takes place. The buildings are designed to look vintage but in fact they are thoroughly modern and are only a couple of decades old. They replaced earlier buildings that are now used as office space. As you arrive at the parking lot you can immediately smell a slight tinge of pepper and vinegar. It's a pleasant odor, not overwhelming, but it's very distinctly Tabasco®.
---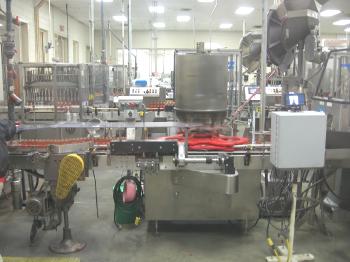 Tabasco® Bottling Lines
Tabasco® Sauce whizzes by on bottling lines. Every bottle produced by the McIlhenny Company will roll along these lines where they are filled and packaged. In this photograph above, the bottles can be seen on the left part of the near line and the middle line. According to handwritten signs on a display window, this run of habanero sauce was destined for China.
---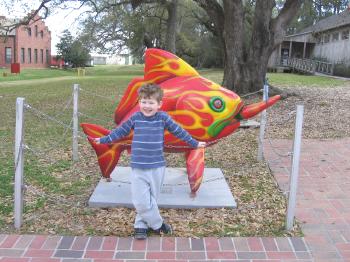 Outside the Tabasco® Country Store
The McIlhenny Company has a "country story" next to their factory. It sells every imaginable Tabasco® accessory and food item imaginable. In this photograph one of our little guys posed in front of a fiery fish that has just bitten into hooked Tabasco® pepper. The factory can been seen in the background to the left, and the country store to the right.
You may also be interested in visiting my Jungle Gardens of Avery Island page.