<-- if you enjoyed this page, please consider clicking the +1 button. Thanks!
Minnetonka Cave
Caribou-Targhee National Forest , Bear Lake, ID (July 2011)
| | |
| --- | --- |
| | |
| A Mountain View Near the Cavern | Minnetonka Cave |
We'd heard about Minnetonka Cave while we were visiting Bear Lake and decided to check it out. It's set high within the Bear Lake Range in Cache National Forest (administered by the Montpelier Ranger District of the Caribou-Targhee National Forest) at an altitude of 7,700 feet. It's also supposed to be the largest limestone cavern in Idaho that's readily accessible to tourists.
Getting there isn't too difficult. We drove along the western side of Bear Lake towards its northern end, and the town of St. Charles. From there it's about ten miles practically due west deep into the National Forest. One word of advice -- set the odometer to zero because ten miles along a minor road through a narrow valley with few other landmarks makes it seem like an interminable distance. We drove and drove until I began to wonder whether we were actually on the right road. We were. You'll know you're getting close when the road curves towards the south and begins to climb at a steep rate along switchbacks.
The road itself is in good shape, it's paved for the entire length, and it terminates directly at a parking lot near the cave entrance.
---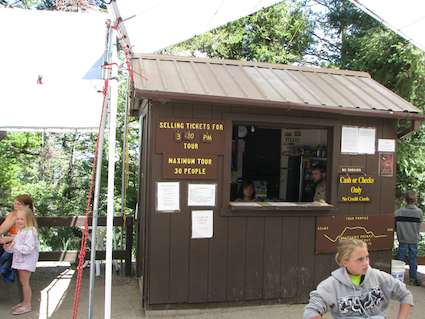 Getting Ready for the Tour
Minnetonka Cave is available for touring from around Memorial Day to Labor Day. There's a lot of snow at this altitude and it takes awhile for everything to melt so that severely limits the tourist season. It's also popular, meaning that there are many people who want to see the cave each summer and they can only let in small groups at half-hour intervals. One can wait a long time if arriving at a popular time in the afternoon. We waited about 40 minutes which was actually pretty good. It got much longer for those who got there soon thereafter. There is very little protection from the elements while waiting. Fortunately the guides set up a tent canopy with benches and picnic tables next to the ticket booth so people can at least get out of the sun. They also provide a primitive restroom area.
The cave was discovered relatively recently, in the early 1900's, by a grouse hunter. He was foraging for a group that was constructing a nearby sawmill when he felt a cool breeze blowing from the ground near where the grouse fell. Commercialization later became possible through a 1930's Works Progress Administration project. They built a trail up to the cave and then a path through several rooms, including stairways and handrails. This opened the caverns to casual tourists and it's been a popular summertime destination every since.
---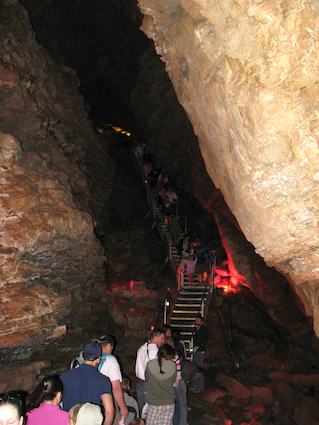 Climbing to the Chambers
Minnetonka is a "live" cave, meaning formations are still being created by the continuous drip of water through layers of limestone. We visited during the summer of 2011 -- a particularly wet year -- and experienced muddy floors and drips on our heads throughout the tour. Minnetonka is supposed to be an Indian word for "falling waters," so there you go. It wasn't unbearable however, and the formations more than made up for any minor inconvenience.
The tour penetrates about a half-mile into the mountainside as it traverses nine separate rooms. Minnetonka Cave, like the typical cavern, maintains a constant temperature even in the hottest months. It's chilly in there so bring a jacket. One should also be prepared for some walking. There are more than 400 steps, some up and some down, from the entrance to the final room. And of course, the same is true going the other direction to exit the cave. It shouldn't be too strenuous for anyone in moderate shape. However it could be challenging for those with mobility difficulties so that should be taken into account.
---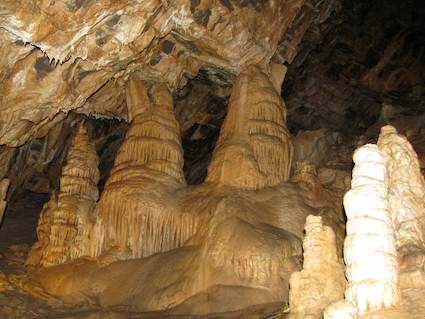 Amazing Formations
Stalactites and stalagmites can be found throughout the cave along with one of my personal favorites -- Cave Bacon! There are supposed to be bats as well, including Townsend's big-eared bats, although we did not see any. That's fine, I'd rather just see the formations.