<-- if you enjoyed this page, please consider clicking the +1 button. Thanks!
Icelandic Adventures
Iceland (September 1999)
| | |
| --- | --- |
| | |
| Tjörn ("The Pond") near the center of Reykjavík | Icelandic Sites |
For a country as small as Iceland, the capital city of Reykjavík and its suburbs felt much larger than one would expect. Hallgrímskirkja, a tall church sitting atop a hill, dominated the otherwise low-slung skyline. Corrugated iron protected historic homes near the harbor from cold rain and steady wind. Tjörn (literally "the pond") near the center of the old downtown provided a peaceful strolling place and a refuge for dozens of species of migratory birds.
---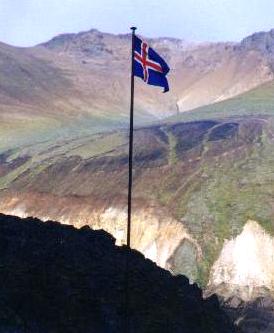 The Icelandic flag flies over Landmannalaugar
It's hard to imagine a greater natural beauty than Landmannalaugar. Its unspoiled rhyolite peaks, glacial rivers and geothermal hot streams provided a steady supply of breathtaking panoramas. Unusually colored volcanic rocks include blues, greens, yellows, tans, and blacks. Fierce winds threatened to push us from the narrow paths that clung stubbornly to the jagged ridgelines. Ferðafélag Íslands maintained a hut in the valley at Landmannalaugar, right next to a warm stream that could be used for swimming even when the weather turned nasty. "Hut" was a bit of a misnomer because the facility was actually quite nice.
---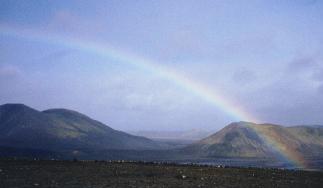 A rainbow appears over the lava field
Fjallabak Nature Reserve contained Landmannalaugar but also much more. Each turn brought snow-covered mountains, charred lava fields with gentle layers of moss, dark blue lakes in ancient calderas, and frigid streams tumbling from the cliffs. A light mist filled the air to create intense full-horizon rainbows that never seemed to fade. Occasionally sheep appeared between the rocks and high upon the mountainsides but otherwise little else survived in the remoteness.
---
By now most of you know about my quest to enjoy the brewing arts so it should come as no surprise that I should do the same in Iceland. We sampled three different Icelandic beers from two breweries, representing most if not all the domestic product. All were made in the light lager / pilsner style found so prevalently throughout the world today. This is not one of my preferred styles so I should probably refrain from passing judgment, but they seemed to be faithful representations.
If you're looking for the Egils website, try http://www.egils.is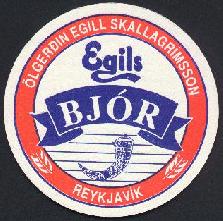 Egils Bjór Coaster
I don't speak any Icelandic so if readers from Iceland ever find this page I hope they will be kind enough to provide a better translation. I believe "Ölgerðin Egill Skallagrímsson&quot is the manufacturer [since I first wrote this I've received e-mail pointing-out that the brewery is named after an Icelandic Saga hero that is well-known for his amazing drinking abilities]. They produced a whole range of beverages and fruit juices in addition to their beers. "Egils" is the brand name. "Bjór" is the Icelandic word for beer. "Reykjavík" is of course the capital city of Iceland, and the location of the brewery. We tried two Egils beers and both tasted very similar although they contained slightly different alcohol levels. The more common variety was called "Gull" which I believe is Icelandic for "gold."

Egils Brewery in Reykjavík
As we drove out of Reykjavík on our day-trip to Landmannalaugarwe stopped at a convenience store on the outskirts of town. I looked up and spotted a fifteen-foot bottle and quickly realized we were right outside the Egils brewery. We didn't have time to explore further so it didn't count as a brewery visit, but I did manage to snap a photo of the bottle.
There is another brewery in Akureyri in the northern part of Iceland that makes the Viking brand. We sampled the beer but didn't travel to northern Iceland. Maybe we will be lucky enough to do so on the next trip?
Because of high taxation and importation costs, one can expect to pay dearly for alcohol. In a restaurant a single domestic bottle of beer ran about 450 Icelandic króna (Ikr), or nearly $6.50 during our visit (at approximately 70 Ikr to the dollar). The price quickly rose for imported beer, wine and liquor. We knew about this in advance so we brought a fine selection of Belgian beers and German wine collected earlier in the trip. Except for the three samples we tasted for "research&quot purposes, we stuck to our personally imported reserve. However the biggest bargain of our trip was an Egils glass I purchased at the weekly Reykjavík flea market for a measly 100 Ikr (about $1.45 at the time).