<-- if you enjoyed this page, please consider clicking the +1 button. Thanks!
Waikiki Beach, Honolulu, Oahu Adventures
Hawaii (October 1997)
| | |
| --- | --- |
| | |
| In Diamondhead's Shadow | Waikiki Beach, Oahu, Hawaii |
We stood at what had to be the ultimate Hawaiian tourist spot, on Waikiki Beach with Diamondhead in the background. Most visitors looked to be Japanese, or honeymooners, or both. We appeared in the background of several dozen Japanese wedding videos totally by accident. We were never mistaken for being Japanese for obvious reasons, but we were sometimes mistaken for a honeymoon couple. Remembering prior advice, we decided not to correct any misconceptions. We didn't get any free stuff, but some random guy said we absolutely had to have this photo so he took my camera and snapped it.
Honolulu didn't impress me particularly. It was just another large city, albeit with perfect climate and great scenary. Waikiki Beach was much more narrow than I expected and excessively crowded compared to beaches we'd seen in Kauai and Australia. We made the best of the situation and had a good time anyway. We didn't know that Waikiki had a big Halloween celebration either, so our fortunate timing came as a pleasant surprise. The bars had lots of drink specials, too.
OK, see Diamondhead, above? Doesn't it look like a big solid rock? Actually it's a bowl, a volcanic caldera. Nobody ever told me that Diamondhead was hollow. A tunnel on the other side provides access into the caldera, and a trail climbs from the interior floor to the peak of the ridge. The trail goes through old tunnels and artillery placements until it reaches the top, with excellent views of Honolulu and the ocean below.
---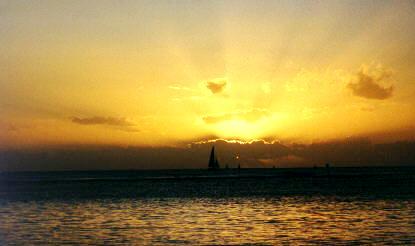 A Spectacular Hawaiian Sunset
We saw a spectacular sunset on Waikiki our last evening in Hawaii and last evening of our adventure. We started the journey back to home on a 10:00 p.m. fight from Honolulu. We returned to cold weather, piles of work, stacks of bills, and two very unappreciative cats, wondering when we would be able to return.
Return to Part 1 where the adventure began on Kauai.