<-- if you enjoyed this page, please consider clicking the +1 button. Thanks!
Island of Kauai Adventures
Hawaii (October 1997)
| | |
| --- | --- |
| | |
| Kauai's Famous Na Pali Coast | Kauai |
When my wife and I planned our trip to Australia we figured we might as well hit Hawaii since we'd be all the way out there anyway. On the leg from Los Angeles to Sydney a few days earlier we flew right over Hawaii; a thirty second view of Molokai serving as our only sight of land among fourteen hours of ocean and clouds. Sydney to Honolulu at a mere nine and a half hours didn't bother us.
After spending a restless night near the Honolulu airport, at a hotel featuring a busy highway on one side and a raucous 4 a.m. club on the other, we took the short hop to the much more laid-back island of Kauai. We chose Kauai for its quiet charm, natural beauty, and hiking opportunities. The island surpassed our expectations.
We wanted to base ourselves centrally to the major features of the island, and chose a hotel located just north of Lihue, the county seat of Kauai County. From here we could swing easily to the west on Rt. 50 or north on Rt. 56.
Rt. 56 became Rt. 560, and terminated at Ke'e Beach. Steep cliffs along the Na Pali coast, like the one pictured above, must have made it impossible to continue a road the rest of the way around the island. The Na Pali coast contained some of the best scenery we experienced on Kauai, but it could be seen only by air, boat, or foot. We came prepared to hike, so we hit the trailhead at Ke'e Beach for the muddy mountain-side trek to Hanakapiai Beach. Every turn presented another spectacular view.
---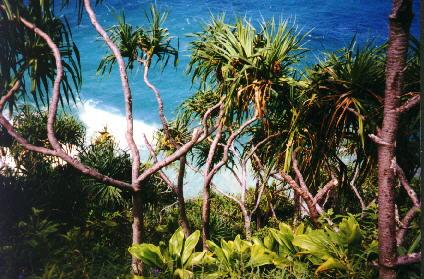 Rugged Trail Along the Na Pali Coast
We reached Hanakapiai beach and its pounding, dangerous surf after hiking about an hour and a half. We relaxed on the sand, forded a creek that flowed down from the mountains onto the beach, and poked around a shallow cave over at the far end. The beach wasn't crowded, but more people had made the same trek than I'd expected.
We decided to push further up the coast to find a waterfall described in one of our trail guides. The vegetation thickened, the trail narrowed and the mud deepened. Although we came prepared with hiking boots, water, and snacks, we had not appreciated the difficulty of negotiating slippery trails and stifling heat that reduced our progress to a crawl. We turned around defeated after half an hour.
With unexpected time on our hands, we hiked leisurely back to Ke'e and stopped frequently to enjoy the beauty of the Coast and appreciate the opportunity to be there. I took the photograph shown above, which quickly became my personal favorite. I loved the change in colors from dark blue to white, interspersed with the twisted greens of native Na Pali flora.
After the hike we washed mud off and rested at Ke'e, and laughed at the wild chickens that circulated among the beachgoers begging for handouts. Yes, wild chickens. There are lots of wild chickens on Kauai.
Slowly, with no particular plan in mind, we drove back towards Lihue. We had time to see the "Wet Cave" and relax at the very nice public beach at Hanalei. Eventually we arrived back at the hotel and discovered the hot tub and some Hawaiian microbrews.
---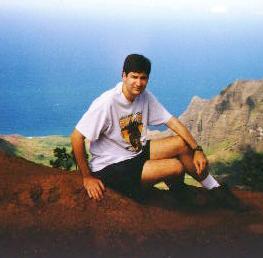 Kauai Scenic View
My wife and I drove up Waimea Canyon Road, steadily gaining altitude and increasingly impressive views. In contrast to our experiences along the Na Pali Coast, this portion of Kauai felt very dry. We continued into Kokee State Park until we could drive no further. The vistas were already spectacular but we decided to try for better, continuing on foot along the ridge. The crowds at the Lookout disappeared behind us and we enjoyed the scenery in quiet and solitude. The dry trail suddenly turned slick as we crossed a magic line that marked the beginning of a rainforest. Planks had been placed over many of the muddiest portions and we reached another lookout after about a mile without too much difficulty.
As we drove back down to Waimea we stopped frequently at the various lookouts of this "Grand Canyon of the Pacific." We knew we were getting close to the bottom when we started spotting the tour buses.
---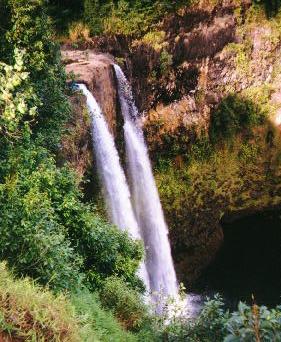 Spectacular Wailua Falls
We took a short detour on our way back to Lihue. We cut up a narrow road that crossed through sugarcane fields until we arrived at this beautiful double waterfall. Various tourist material noted that the opening scene of the old Fantasy Island TV show was filmed here at Wailua Falls. "Da plane, da plane!" Many different films and shows have apparently used the natural wonders of Kauai as a backdrop.
That evening we had dinner with Bruce and Toni (I won't place their last name on the Internet). Bruce attended a conference in Honolulu earlier in the week and Toni accompanied him, using it as an opportunity for an inexpensive Hawaiian vacation. By total coincidence they stayed at the same hotel as us in Kauai. We discovered this before we left on our journey, or I may have been severely shocked if I'd bumped into them unexpectedly in the lobby. It was nice to spend time with friends from home after being on the road for a couple of weeks, but it seemed bizarre sitting with them several thousand miles from where we normally would have seen them. We traded experiences and advice, such as this gem from Bruce and Toni: "If people in Hawaii mistake you for a newlywed couple, don't correct them 'cause you'll get free stuff."
Readers who have an interest in waterfalls might also want to check my Waterfall Index page.
Continue to Part 2 where the adventure moves to Oahu.