<-- if you enjoyed this page, please consider clicking the +1 button. Thanks!
Savannah
Chatham County, Georgia, USA (July 2006)
| | |
| --- | --- |
| | |
| Perched High Above Historic River Street in Savannah | Savannah, Georgia |
Savannah is a beautiful city full of charm and graceful age. We came to town for a wedding and stopped by to meet the prospective bride and groom the evening before the big event (I'm not going to put their name on the Internet but they know who they are). They had rented a well-appointed apartment along historic River Street for the week. This was one of those places entered on the backside using a rickety wooden catwalk. It's a bit difficult to describe but the land drops quickly next to the riverbank. Thus the second floor of a River Street building is at street level to the road behind it. Second floor doorways are connected to this parallel road by catwalks. It's different and its fun. Here's our older son on the balcony with the river behind him.
---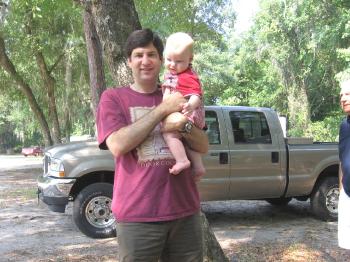 Dad and the Little Guy
We also spent some time relaxing with family. Here are Dad and the younger son hanging out in the shade during some downtime.