<-- if you enjoyed this page, please consider clicking the +1 button. Thanks!
Fort Pulaski National Monument
Tybee Island, Chatham County, Georgia, USA (July 2006)
| | |
| --- | --- |
| | |
| Watch the Cannon Roar | Fort Pulaski |
Fort Pulaski National Monument sits between Savannah and Tybee Island. There is no way to miss it while driving between the two -- it is the only thing out there other than marshland. The fort has a long history but probably gained its greatest prominence during the Civil War. This massive masonry structure, once though impregnable, was brought to its knees by Union rifled cannon fire. Weapons evolved and these types of fortifications became obsolete instantly.
---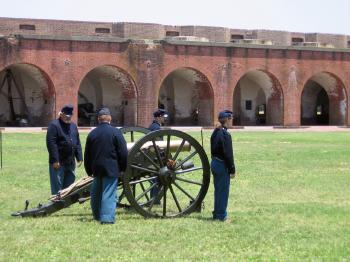 Union Soldiers Stand by their Cannon
Our visit happened to coincide with a demonstration of cannon firing skills in the inner courtyard. These reenactors are clothed in Union garb and represent either the original occupiers or those who recaptured the fort from the Confederate army. There are lots of places to walk and climb. The entire interior perimeter and roof can be examined, as well as numerous tunnels through the earthworks.
---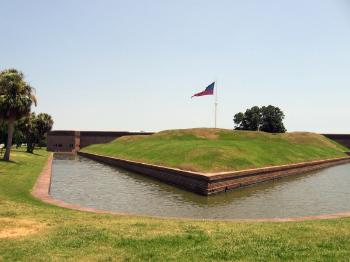 Fort Pulaski Panorama
In this photograph, a moat and earthworks provide initial defensive capabilities. Overhead flies the Confederate flag. In the distance sits massive brick walls designed to withstand punishing cannon shots and angled to maximize crossfire on any force foolish enough to try to breach them. Rifled cannons, however, delivered accurate shots from great ranges and could hit the fort with impunity without any risk of return fire.
Readers who have an interest in forts might also want to check my Forts, Fortresses and Fortifications page.