<-- if you enjoyed this page, please consider clicking the +1 button. Thanks!
An Ever-Growing List of Ferries From Around the World
750+ Ferry Routes and Counting
Maps currently available include:
This page will always be a work in progress. The maps take awhile to research and program, and new ones will be added as I can complete them.
---
My Personal Ferry Travelogues
Vinalhaven Ferry; Rockland to Vinalhaven Island, Maine, USA
Beaver Island Ferry; Lake Michigan (photos)
Belle Chasse Ferry; Belle Chasse, Louisiana (map, photos and video)
Canal Street/Algiers Ferry; New Orleans, Louisiana (map, photos and video)
Cassville Car Ferry; Mississippi River between Wisconsin and Iowa (map, photos and video)
Chappy Ferry; Martha's Vineyard, Massachusetts (video)
Dorena-Hickman Ferry; Mississippi River, Kentucky/Missouri (map, photos and video)
Dry Tortugas Ferry; Key West to Dry Tortugas, Florida (map, photos and video)
Ferry Wahkiakum; Columbia River, Washington/Oregon (map, photos and video)
Great Captains Island Ferry; Greenwich, Connecticut (page in progress)
Hy-Line; Hyannis to Martha's Vineyard, Massachusetts (photo)
Hy-Line; Hyannis to Nantucket, Massachusetts (photo)
Green River Ferry; Mammoth Cave National Park, Kentucky (map, photos and video)
Hatteras-Ocracoke Ferry; Outer Banks, North Carolina (map, photos and video)
Jamestown-Scotland Ferry; Jamestown, Virginia (map, photos and video)
Lake Michigan Car Ferry; Lake Michigan (map and photos)
Madeline Island Ferry; Bayfield, Wisconsin (map and photos)
Pico-Faial Ferry; The Azores, Portugal (photos)
Russian River Ferry; Kenai Peninsula, Alaska (map and photos)
Tangier Island Ferry; Chesapeake Bay, Virginia (map and photos)
Vinalhaven Ferry; Rockland to Vinalhaven Island, Maine (map, photos and video)
Valentia Island Car Ferry; Portmagee Channel, Valentia Island, Ireland
White's Ferry; Poolesville, Maryland (map, photos and video)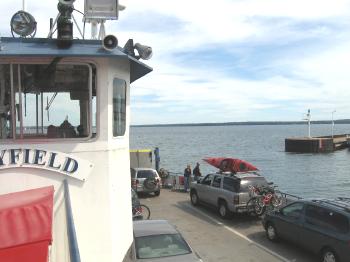 Madeline Island Ferry at Bayfield, WI