A Winter Day at the Beach
Rehoboth Beach, Sussex County, Delaware, USA (Photos from 2004, video from 2008)
| | |
| --- | --- |
| | |
| A Short Video of Rehoboth Beach in Winter | Rehoboth Beach, Delaware |
---
Beachcombing
Sometimes we just have to get out of the house and do something during the middle of winter. It felt like we'd been trapped inside for months and we were starting to get a little stir-crazy. Regular readers will know that we don't tend to make "normal" travel decisions, so rather than a skiing holiday or a weekend flight to the Bahamas we packed up our bags and our son and took ourselves over to Rehoboth Beach.
---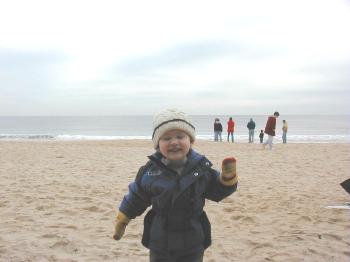 Enjoying the Warmth of the Sun
There is something special about the Atlantic Ocean in winter. The few brave souls who venture outside own the beach. It's an opportunity for quiet contemplation without the maddening crowds occupying the same space in July and August. People are grateful to see you. We stopped at one of the only little shops open for business and bought a kite and some polished pebbles for our son. We may have been the only customers that morning. Dinner at the Dogfish Head brewpub that evening drew a respectable and inviting crowd but it was far from packed [see my Dogfish Head page]. Hotel rooms were cheap and plentiful.
---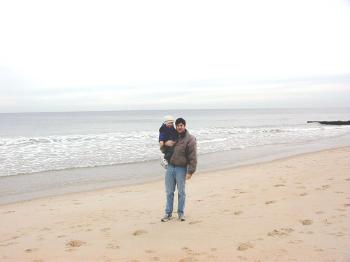 Solitude for Dad & the Little Guy
Parking could be found easily along Rehoboth Avenue even less than a block from the boardwalk. We strolled aimlessly along the shoreline with our jackets to keep us warm, with the sun at our backs and a light breeze coming off the water. The only ones careless enough to splash among the breakers were a few dogs chasing driftwood.
And once we had our fill we returned to the hotel with its heated, indoor pool and pretended it was summer again.