Quick facts about Vermont
Location: See map on the right side of the page.
Size(1): 9,250 square miles. Vermont is the 43rd largest state. The next larger state is Maryland and the next smaller state is New Hampshire.
Population(2): 623,050 people. Vermont is the 49th most populous state. The next more populous state is North Dakota and the next less populous state is Wyoming.
Population Density: 67.36 people per square mile. Vermont is the 30th most densely populated state. The next more densely populated state is West Virginia and the next less densely populated state is Minnesota.
Bordering States: Vermont shares a border with 3 states: New York; Massachusetts and New Hampshire.
Admission to the Union: March 4, 1791. Vermont was the 14th state admitted to the Union, after Rhode Island and before Kentucky.
Capital: Montpelier.
Highest Point: 4,393 feet at Mount Mansfield. See SummitPost's Mount Mansfield page.
Lowest Point: 95 feet at Lake Champlain.
Government website: Vermont.gov.
Official Tourism website: VermontVacation.com.
Still not enough? See Wikipedia's Vermont page.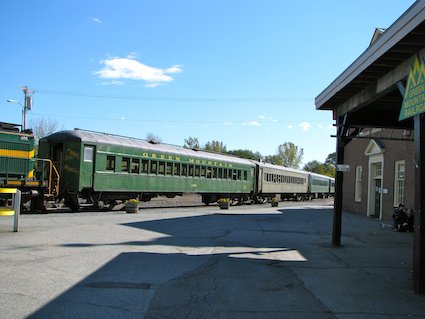 Green Mountain Railroad
at White River Junction
Counties in Vermont
Below are the 14 counties in Vermont. Although infrequent, counties sometimes do change so please let me know if any of this information is out of date and I will update it. Those counties that I have visited are in bold. If I have a photograph or other item associated with a county somewhere else on my website, there will also be a link.
Addison
Bennington
Caledonia
Chittenden: Largest county population in Vermont (146,571 people in 2000 Census).
Essex: Smallest county population in Vermont (6,459 people in 2000 Census).
Franklin
Grand Isle: Smallest county in Vermont (83 square miles); Vermont's International Border Anomaly
Lamoille
Orleans
Rutland
Washington
Windham
Windsor: Largest county in Vermont (972 square miles); Cornish-Windsor Bridge; Green Mountain Railroad - White River Flyer; Harpoon Brewery; Jasper Murdock's Ale House / The Norwich Inn
---
Sources:

(1) U.S. Census Bureau American FactFinder: 2005 Population Estimates; Table GCT-T1.
(2) U.S. Census Bureau FedStats - MapStats: 2000 Land Area; United States.
---
More Options
---
---