Quick facts about New Mexico
Location: See map on the right side of the page.
Size(1): 121,356 square miles. New Mexico is the 5th largest state. The next larger state is Montana and the next smaller state is Arizona.
Population(2): 1,928,384 people. New Mexico is the 36th most populous state. The next more populous state is Nevada and the next less populous state is West Virginia.
Population Density: 15.89 people per square mile. New Mexico is the 45th most densely populated state. The next more densely populated state is Idaho and the next less densely populated state is South Dakota.
Bordering States: New Mexico shares a border with 5 states: Colorado; Utah; Arizona; Texas and Oklahoma.
Admission to the Union: January 6, 1912. New Mexico was the 47th state admitted to the Union, after Oklahoma and before Arizona.
Capital: Santa Fe.
Highest Point: 13,161 feet at Wheeler Peak. See SummitPost's Wheeler Peak page.
Lowest Point: 2,842 feet at the Red Bluff Reservation in Eddy County.
Government website: State of New Mexico.
Official Tourism website: New Mexico Land of Enchantment.
Still not enough? See Wikipedia's New Mexico page.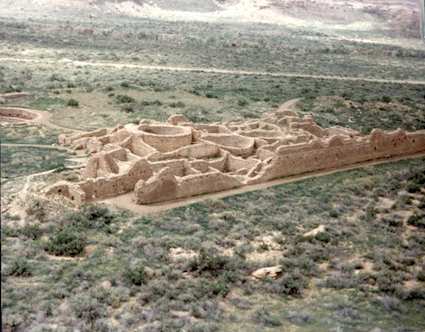 Chetro Ketl at Chaco Canyon
National Historical Park
Interesting New Mexico county trivia
San Juan County is New Mexico's contribution to the four corners phenomenon, the only place where four states come together at a single point.
Counties in New Mexico
Below are the 33 counties in New Mexico. Although infrequent, counties sometimes do change so please let me know if any of this information is out of date and I will update it. Those counties that I have visited are in bold. If I have a photograph or other item associated with a county somewhere else on my website, there will also be a link.
Bernalillo: Largest county population in New Mexico (556,678 people in 2000 Census); Assets Grille & Brewing Company
Catron: Largest county in New Mexico (6,928 square miles).
Chaves
Cibola
Colfax
Curry
Debaca
Doña Ana
Grant
Guadalupe
Harding: Smallest county population in New Mexico (810 people in 2000 Census).
Hidalgo
Lea
Lincoln
Los Alamos: Smallest county in New Mexico (109 square miles); The Sandoval Exclave (extends into Los Alamos County)
Luna
McKinley
Mora
Otero
Quay
Rio Arriba
Roosevelt
San Miguel
Sandoval: The Sandoval Exclave
Santa Fe
Sierra
Socorro
Taos
Torrance
Union
Valencia
---
Sources:

(1) U.S. Census Bureau American FactFinder: 2005 Population Estimates; Table GCT-T1.
(2) U.S. Census Bureau FedStats - MapStats: 2000 Land Area; United States.
---
More Options
---
---