<-- if you enjoyed this page, please consider clicking the +1 button. Thanks!
La Jolla Coast
San Diego County, California (2005)
| | |
| --- | --- |
| | |
| Along the Pacific in La Jolla | La Jolla Locations |
Next we went to La Jolla with some of our family who live in the area that were kind enough to act as tour guides. We wandered down to the Ellen Browning Scripps Park along the Pacific shoreline. The southwestern corner led to the crescent shaped Children's Pool, also called Casa Beach, with its jetty protecting shoreline from pounding Pacific waves. We stopped for this photograph about halfway down the jetty, with the ocean to our backs. The scenery was every bit as incredible as it appears and stretched down the coastline in both directions as far as could be seen. You can just make out the guardrail that protected people at the top of the high wall from slipping into the rocky surf, below.
---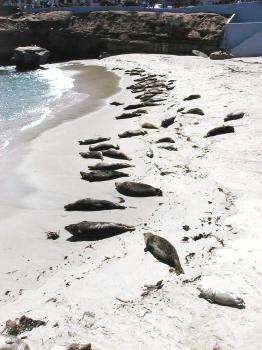 Harbor Seals Relax
at the Children's Pool
Adult harbor seals and their little pups filled the Children's Pool beach at the base of the jetty. Originally the Children's Pool was designed to be a fully protected wading area behind the jetty, but eventually much of the "pool" filled with sand. Over time this became a particularly attractive pull-out for a colony of harbor seals that have now claimed it as their own. We watched them slide in and out of the surf, roll about and play on the sand, and lounge in the warmth of a late spring day. An nonprofit volunteer organization known as La Jolla Friends of the Seals set up lawn chairs at the entrance to the beach to keep people from wandering too close to the rookery. They helped educate the public and protect the colony that has chosen to reside on Casa Beach. Our little guy had never seen a seal in the wild before and he was delighted to watch them frolic through the waters along the shoreline.
---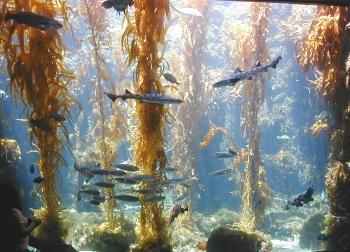 A large tank at the Birch Aquarium
Finally we wandered up the hill from La Jolla to the Birch Aquarium. It's small compared to some aquariums we've visited, but it packed a lot of exhibits into its confined space. It also offers a great panoramic view of La Jolla and the ocean from a patio at the back to the building. This large tank replicated how it might appear if one were to dive into the ocean at the bottom of the hill. That was close enough for us with a kid in tow.
See Another Page from our San Diego Visit: The San Diego Zoo and Wild Animal Park