<-- if you enjoyed this page, please consider clicking the +1 button. Thanks!
Sydney, Australia Ferries Network
Interactive Map of Brisbane QLD Ferries
---
Ten separate ferry lines depart from Circular Quay at the foot of Sydney's City Centre, forming a network that connects communities on all sides of the harbour, and tying in with bus and rail stations. Zoom in or zoom out on the interactive map above to see each ferry line and its stops. For detailed information see the official Sydney Ferries Homepage.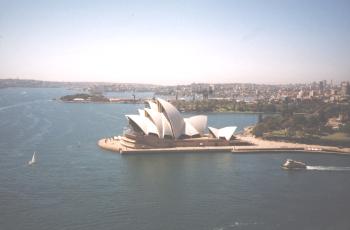 Ferry Leaving Circular Quay,
near Sydney Opera House
---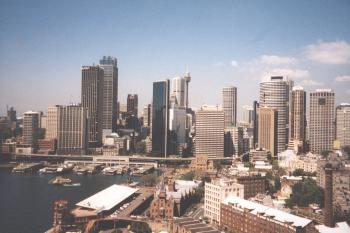 Ferryboats line up at Circular Quay
along The Rocks (foreground)
and City Centre (background)
---
F1
Manly Ferry, stopping at
• Circular Quay Wharf 3
• Manly
F1X
Manly Ferry JetCat (Express), stopping at
• Circular Quay Wharf 2
• Manly
F2
Taronga Zoo, stopping at
• Circular Quay Wharf 2
• Taronga Zoo
F3
Watsons Bay via Rose Bay, stopping at
• Circular Quay Wharf 4
• Woolloomooloo (limited Service)
• Darling Point (weekdays only)
• Double Bay
• Rose Bay
• Watsons Bay (limited service)
F4
Mosman Bay via Cremorne, stopping at
• Circular Quay Wharf 4
• Cremorne Point
• Taronga Zoo (special Sunday service - F4S)
• South Mosman
• Old Cremorne
• Mosman Bay
F5
Neutral Bay via Kirribilli (loop), stopping at
• Circular Quay Wharf 4
• Kirribilli
• North Sydney
• Neutral Bay
• Kurraba Point
• Kirribilli
• Circular Quay Wharf 4
F6
Darling Harbour via Milsons Point, stopping at
• Circular Quay Wharf 5
• Milsons Point
• McMahons Point
• Balmain
• Balmain East
• Darling Harbour
• Pyrmont Bay
F7
Woolwich via Balmain, stopping at
• Circular Quay Wharf 5
• Milsons Point (peak hours)
• McMahons Point (peak hours)
• Balmain East
• Birchgrove
• Greenwich
• Woolwich
F8
Birkenhead via Balmain (limited service), stopping at
• Circular Quay Wharf 5
• Balmain East
• Balmain
• Balmain West
• Birkenhead
F9
Rydalmere via Meadowbank, stopping at
• Circular Quay Wharf 5
• Milsons Point (peak hours)
• McMahons Point (peak hours)
• King Street Wharf
• Drummoyne
• Huntleys Point
• Chiswick
• Abbotsford
• Cabarita
• Putney
• Meadowbank
• Olympic Ferry
• Rydalmere
F10
Parramatta (Express), stopping at
• Circular Quay Wharf 5
• Rydalmere
• Parramatta