<-- if you enjoyed this page, please consider clicking the +1 button. Thanks!
Noosa National Park
Noosa Heads, Queensland, Australia (1997)
| | |
| --- | --- |
| | |
| Park Headland | Noosa National Park |
We drove 160 km north of Brisbane to Noosa Heads on the Sunshine Coast. This town is a gateway to the spectacular Noosa National Park with its rugged shoreline and abundant native Australian wildlife. Hasting Street provided access to the popular Headlands section of the park. We found a spot in the small carpark on the park premises and considered ourselves lucky. The alternative would have involved grabbing a spot in town where drivers already competed vigorously for the few remaining spots. We hiked the Coastal Track as it hugged the northern Headlands coast along Tea Tree Bay. Rocky shelves alternated with sandy beaches as waves marched towards land. Sheltered bays such as this one calmed breaking crests into gentle surges. In unprotected places, rabid water thrilled surfers before slamming violently onto shore.
---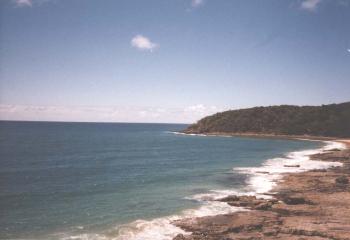 Noosa National Park Shoreline
The Coastal Track wriggled, climbed and dropped past Granite Bay and Winch Cove as we pushed further along the Headlands. We paused under a shade tree for awhile surrounded by the view and the beauty of the day. Eventually we backtracked to Noosa Heads for lunch. Upon arriving in town we walked among the upscale boutiques, shops and restaurants. The town itself wasn't very large but it packed a lot of features into a small area surrounding Hastings Street. We grabbed an outdoor seat along the boulevard and watched the unfolding parade of surfers, tourists and shoppers.
---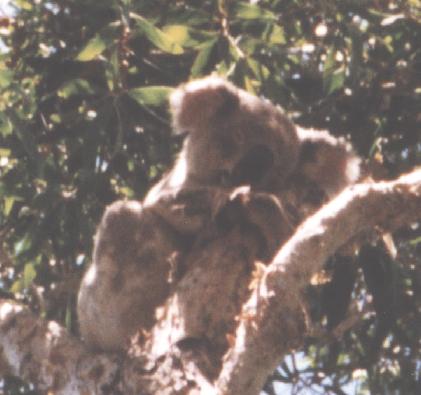 A Koala Climbs a Eucalyptus Tree
During our wanderings through Noosa National Park earlier that morning we observed some of the abundant native wildlife. We spotted this koala high up in a tree during our bushwalk through the coastal forest along Dolphin Point. Of course we'd seen koalas closer-up in zoos and animal parks, but this one freely roamed through its natural habitat, so it felt a lot more special than gazing upon the same scene enclosed by a cage. Others apparently felt the same way and a small crowd soon gathered under the perch. This is far from the best photography I've ever taken but it was about the best I could do with a simple point-and-click camera with minimal zoom. And did I mention it was a WILD KOALA? So please forgive my exuberance over this blurry, over-magnified grainy picture.
---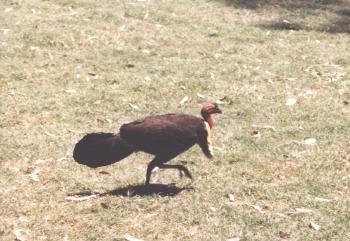 Australian Brush-Turkey
We also stumbled upon an Australian Brush-turkey. Sometimes these are called scrub turkeys, bush-turkeys or wild turkeys, but the are all different names for the same thing. This turkey is indigenous to Australia and lives along the scrub lands and forest of eastern Queensland and extending down into New South Wales. They seemed to be quite common in Noosa National Park with its protected habitat. Brush-turkeys wandered as they wished. Here they foraged freely and did not have to worry about someone coming along and building a suburb on top of their homes. I found their red heads and that yellow floppy neck wattle particularly fascinating. It seemed to me that predators could find them easily, but brush-turkeys seemed to thrive here so apparently something was working for them.
Noosa combined a great beach town with incredible coastal scenery and natural wonders. It definitely deserves a visit, and it's no mystery why it's one of Australia's most popular park destinations.