<-- if you enjoyed this page, please consider clicking the +1 button. Thanks!
Brisbane, Australia Ferry Network
Interactive Map of Brisbane QLD Ferries
---
Brisbane has two major river ferries with multiple stops, the CityCat and the Inner City Ferry. There are also several river crossings; Eagle-Holman, Eagle-Thornton, New Farm-Norman, and Teneriffe-Bulimba. Visitors can hop on the CityCat for a really cheap river cruise throughout the city. For detailed information see the official TransLink Homepage.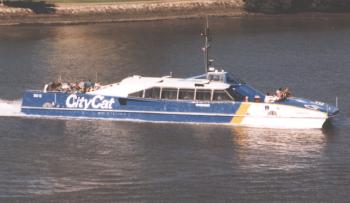 CityCat Traversing the Brisbane River
---
Inner City
Ferry, stopping at
• North Quay 1 & 2
• South Bank 3
• River Plaza
• Thornton Street
• Eagle Street Pier
• Holman Street
• Dockside
• Sydney Street
CityCat
Ferry, stopping at
• University of Queensland
• West End
• Guyatt Park
• Regatta
• North Quay 1 & 2
• South Bank 1 & 2
• QUT
• Riverside
• Sydney Street
• Mowbray Park
• New Farm Park
• Hawthorne
• Bulimba
• Bretts Wharf
Teneriffe-Bulimba
Cross River Ferry, crossing between
• Teneriffe
• Bulimba
New Farm-Norman
Cross River Ferry, crossing between
• New Farm Park
• Norman Park
Eagle-Holman
Cross River Ferry, crossing between
• Eagle Street Pier
• Holman Street
Eagle-Thornton
Cross River Ferry, crossing between
• Eagle Street Pier
• Thornton Street