<-- if you enjoyed this page, please consider clicking the +1 button. Thanks!
Blue Mountains Waterfalls
New South Wales, Australia (1997)
| | |
| --- | --- |
| | |
| Waterfall near Katoomba | Waterfall Locations |
We rode the Great Western Highway out from Sydney for about two hours until arriving at Katoomba, high in the Blue Mountains. Along the way we stopped at a roadside attraction known as Scenic World, which has managed to convert an abandoned coal mine into a stop for enjoying the surrounding scenery from several perspectives. One such method is a scenic skyway or cableway, which carries visitors high above the valley floor along a cable system. In this first photograph a waterfall dropped from the rock ledge with the skyway cables clearly visible in the foreground. The different layers of rock that have been cut through over time came easily into view.
---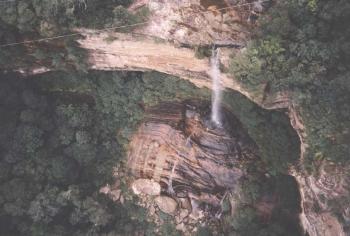 Waterfall View from Scenic Skyway
This next photograph was taken from the cable car itself. This looked basically straight down a waterfall to where it hit a rock outcrop and gently spread across the stone to become an earth-bound stream once again. Steep drops such as these show Blue Mountains obstacles faced by the early English immigrants to Australia, as they began to push outward from their Sydney toe-hold to explore the remainder of the continent.
---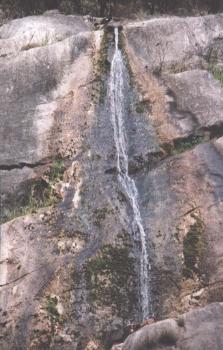 Waterfall near
Jenolan Caves Entrance
Venturing further along the Great Western Highway another hour from Katoomba, we cut down the Jenolan Caves turnoff shortly after Victoria Pass, and descended a steep, narrow twisting road towards the caverns. We passed through the Grand Arch, a natural tunnel, and soon arrived at our destination. This gentle little waterfall tumbled to the ground near the entrance to the caves.
While none of the waterfalls on this page are as tall or as large of many of the others on our travel website, I've included them to make a point. People who get their impression of Australia from popular media may believe that the continent is just one large stretch of desert outback. But indeed there is a diversity of geography and climate. This includes an eastern mountain range that reach 1100 metres high with steep cliffs and rugged gorges, covered by lush eucalyptus forests and cascading waterfalls.