<-- if you enjoyed this page, please consider clicking the +1 button. Thanks!
Australian Brewery Coasters
Collected in the Wild (October 1997)
| | |
| --- | --- |
| | |
| Lord Nelson Brewery Hotel | Lord Nelson Location |
Anyone who knows me understands that I like fine tasting beers. Naturally we had to visit brewpubs and breweries, and try as many different varieties as available.
The Lord Nelson Brewery Hotel bills itself as the oldest hotel in Sydney, dating back to the 1840's. It was located a short walk up from "The Rocks" using the Argyle Cut. They made the best beer I tasted in Australia, and would be worth a visit if you happen to be in Sydney. My wife and I went there one evening and sampled several of their beers. We returned the next day for lunch and sampled the rest. My personal favorite was the "Old Admiral,&quot a dogbolter-style dark lager. It packed quite a punch, too.
---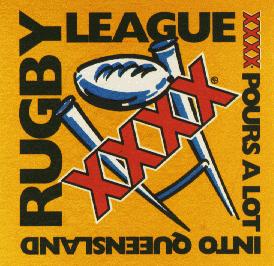 4X Beer - Queensland
This beer is pronounced 4X but I don't dare type its name because someone using a search engine might think this is one of those websites. The beer is a pretty typical mass-produced light lager, and is made by Castlemaine Perkins Ltd. in Brisbane, QLD.
We had difficulty finding Australian-brewed beers that weren't lagers, pilsners, or variations on those themes. Even the bitters lacked much distinction. This made our visit to a bottle shop (a place to purchase alcohol for off-premises consumption) rather depressing. We did find an extra stout and a brown made by the Coopers Brewery of Adelaide. During our visit we saw numerous advertisements featuring American actors pitching Australian brews. I thought it was funny that Americans would be selling Australian beers to Australians.
What was cheapest beer we found in Australia? Old Milwaukee. Even though it had to be shipped all the way across the Pacific, it was still less expensive than the domestic product. That should tell you something. We also saw a six-pack of Budweiser cans for $20 (Australian). This frightened us greatly.