<-- if you enjoyed this page, please consider clicking the +1 button. Thanks!
Somewhere Between Juneau and Sitka
Inside Passage, Southeastern Alaska, USA (August 1995)
| | |
| --- | --- |
| | |
| Cruising Past Beehive Island | Route Between Juneau and Sitka |
One of the benefits of small-ship sailing was our ability to fit through tight spaces where ordinary cruise ships would never dare to venture. To prove the point our ship threaded a needle between a rocky island and the shoreline, barely wider than the boat. The wall on the left was called Beehive Island in deference to its conical shape. Notice how steeply it juts from the water.
---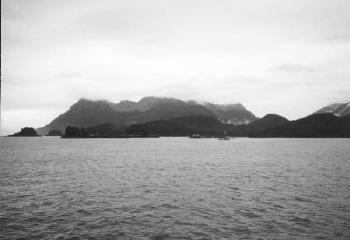 Inside Passage Scenery
This was a typical scene in southeastern Alaska. We sailed along rugged shoreline and uncountable islands through overcast skies. Sometimes it rained but the sun would poke out moments later.
---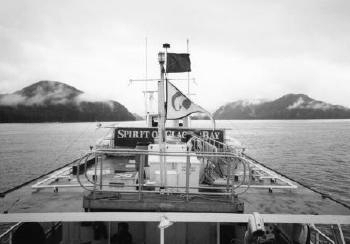 Continuing Our Journey Towards Sitka
We continued to cruise towards Sitka. Snowcapped mountains appeared on the horizon.
---
Passing by a Raft of Sea Otters
Abundant wildlife could be seen everywhere. Whale watching from the deck became a popular activity but there were lots of other interesting things to see. We passed a raft of perhaps 20 sea otters floating in close proximity to each other. This can be seen at the center of the photograph if you look closely.