<-- if you enjoyed this page, please consider clicking the +1 button. Thanks!
Points of Interest
City and Burough of Sitka, Alaska, USA (August 1995)
| | |
| --- | --- |
| | |
| Castle Hill | Sitka |
American history recognizes the 60-foot high promontory known as Castle Hill. It marks the spot where Russia transferred Alaska to the United States after its purchase for $7.2 million in 1867. It also has a notable history from earlier times. Native American Tlingit lived there at least 1,000 years ago. It later served as the capitol of Russian-America. Today it's a great vantage point for views of Sitka and its harbor although we were greeted by rain and fog on the day we visited.
---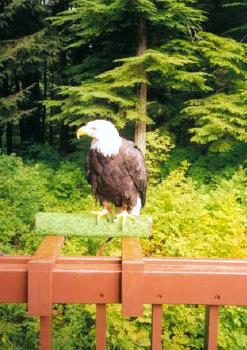 Bald Eagle at the Alaska Raptor Center
The Alaska Raptor Center is another popular Sitka attraction. The Center rehabilitates injured bald eagles and other birds with the hope that they will be able to release these magnificent birds back into the wild. Those with permanent disabilities become Raptors-in-Residence like the bald eagle in the photograph above. In addition to treating 100-200 birds a year, the Center focuses on raptor education and environmental conservation.
---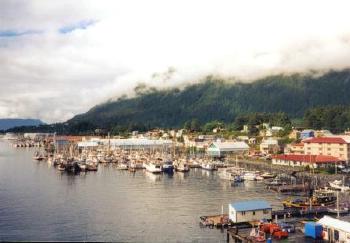 Sitka Waterfront
Here is the picturesque Sitka waterfront with fishing boats at the marina, taken from the O'Connell Bridge between Sitka and a neighboring island. When the Russian-American Company controlled this area they called their settlement New Archangel. Clergy from the Russian Orthodox Church built their home on Castle Hill. The town name later reverted to a contraction a Tlingit phrase. It referres to the native people who originally lived on the seaward side of an island that today is called Baranof but was then called Shee: Shee Atika became Sitka.
---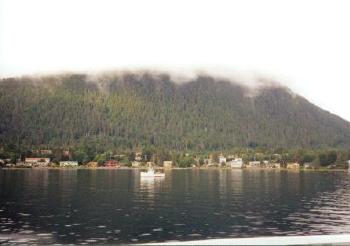 Leaving Sitka
We got a final glimpse of Sitka as we left by sea. From this perspective it's easy to discern the narrow shelf at the bottom of a steep hill where the town clings. Clouds rolled down the mountainside towards the harbor below.
---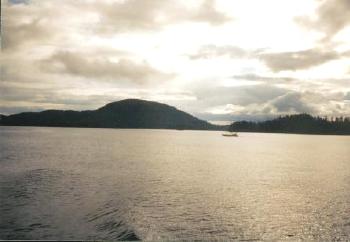 Further Out to Sea
Further out to sea the only sign of civilization was a lone fishing vessel plying the waters of Sitka Sound.