<-- if you enjoyed this page, please consider clicking the +1 button. Thanks!
Sitka National Historical Park, Alaska
City and Burough of Sitka, Alaska, USA (August 1995)
| | |
| --- | --- |
| | |
| Totem Pole Outside of the Visitor Center | Sitka National Historic Park |
Sitka National Historical Park is Alaska's oldest Federally designated park. It commemorates the 1804 Battle of Sitka that took place between the native Tlingits and agents of the Russian-America company The 113 acre park also features totem poles that have been sprinkled along its walking trails. This one was located right outside of the visitors center.
---
Totem Pole Along the Walking Trail
The original totem poles were part of a collection brought to Sitka in 1905 by Alaska's District Governor John G. Brady. He gathered them from villages throughout southeastern Alaska. Artisans carve cedar logs to preserve the history of their people. Totem poles can be very large. You can get an indication of their size by looking at me standing next to one.
---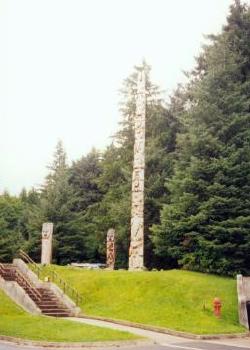 A Variety of Totem Poles, Small and Large
While the totem poles last for decades they are made of wood and they will eventually decay. Many of the poles displayed along the two-mile walkway are replicas of the originals placed there in 1905.
---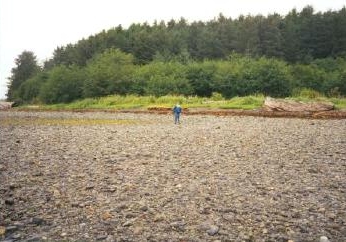 Walking Along the Battleground of 1804
This wide, rocky beach became a bloody battlefield in 1804 when Alaskan Natives and Europeans clashed in their last major armed conflict. Members of the Russian-American company rushed across the beach but were repelled by well-entrenched Tlingits waiting in a protective stockade. Russian naval ships responded by bombarding the fort relentlessly until Tlingits abandoned their position a few days later.
More information can be found on the National Park Service's Sitka National Historical Park website.