<-- if you enjoyed this page, please consider clicking the +1 button. Thanks!
Panoramic Views of the City of Juneau
Juneau City and Burough, Alaska, USA (August 1995 & July 2000)
| | |
| --- | --- |
| | |
| Juneau View From the Hotel Baranof | Gastineau Channel View |
We stayed at the Hotel Baranof during our 1995 visit. We had a room on the top floor with a full harbor view. This was the scene that presented itself each morning as we woke up. This shot looks across Juneau Harbor past a cruise ship in Gastineau Channel towards Douglas Island.
---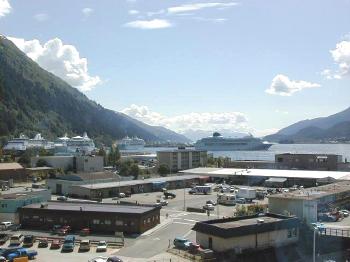 Another Juneau Harbor View
I took this photo on a later trip to Juneau. It's a view from an upper-floor conference room in the tallest building in Juneau, looking across the harbor in a different direction. Mount Roberts is on the left of the image and several cruise ships appear straight ahead. Imagine trying to get any work done with this view in the background.
---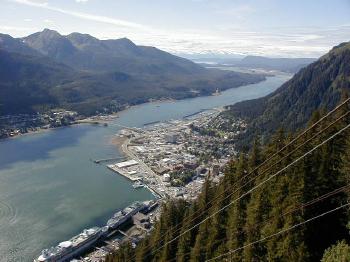 Ariel view of Juneau from Mt. Roberts
The Mt. Roberts tramway had been completed by the time of my visit in July 2000. It brings visitors directly from the Juneau waterfront more than 1800 feet up the side of Mt. Rogers in just a few minutes. Down below is Juneau. From this vantage it's very easy to tell why Juneau is essentially landlocked. It is a small, flat plain surrounded by water and mountains. You can also see the bridge crossing from Juneau to Douglas Island at the middle of the photo if you look closely.
---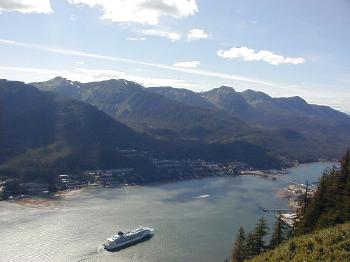 Ariel view of Juneau's Gastineau Channel from Mt. Roberts
This is another view from Mt. Roberts. Here the image focuses more closely on the Gastineau Channel and one of the ubiquitous cruise ships that calls on Juneau on its way to Glacier Bay.
More information about the tramway can be found on the official Mount Roberts Tramway website